What a Way to Go!
(1964)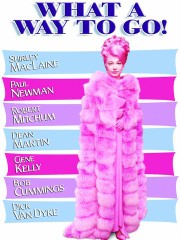 Movie Info
This lavishly produced, big-budget comedy (it cost $20 million in 1964 dollars) stars Shirley MacLaine as Louisa, a widow who is worth $200 million dollars. However, she's convinced that her fortune is cursed, and she wants to give all her money to the IRS. As she explains her sad tale to her psychiatrist, Dr. Stephanson (Robert Cummings), it seems that when Louisa was young she had the choice of marrying rich playboy Leonard Crawley (Dean Martin) or poor but decent Edgar Hopper (Dick Van Dyke). She chose Edgar, but soon he became obsessed with providing a fine home and fortune for her; he got rich but worked himself to death in the process. Despondent, Louisa flies to Paris, where she strikes up a romance with expatriate artist Larry Flint (Paul Newman). When Larry invents a machine that creates paintings based on sounds, he becomes wealthy and famous -- and dies. Louisa returns to America, where she figures to break her streak by marrying Rod (Robert Mitchum), a business tycoon who already has lots of money. He resolves to take life easier and becomes a farmer, only to die in a strange accident with a bull. Louisa is drowning her sorrows one night at a sleazy night spot when she falls for second rate entertainer Jerry (Gene Kelly). They marry, and a now-wealthy Jerry develops a relaxed, carefree quality to his act that makes him a huge star, which leads to his being crushed by a mob of his biggest fans. What a Way to Go! boasted a screenplay by Betty Comdon and Adolph Green that featured many amusing film parodies and a score by Nelson Riddle; it also marked the final screen appearance of comic actress Margaret Dumont, best remembered as Groucho Marx's straight woman in several films. ~ Mark Deming, Rovi
more
Cast
News & Interviews for What a Way to Go!
Critic Reviews for What a Way to Go!
Audience Reviews for What a Way to Go!
A delightful confection of a movie made primarily to showcase Edith Head's sumptuous outfits. It's really an experience to see all these big stars having a grand old time f-cking each other in a big glass of champagne. A satire of sorts, but the main purpose of seeing this movie is to have FUN, because you're never gonna see anything like this again.
½
I wonder how many days I get for man slaughter.

A woman tells a therapist of her strong desire to get rid of as much cash as possible. Her therapist feels this is very strange behavior for a rich woman and is dying to know how her disposition came to be. She tells him a tale of her four husbands and their rise to fame and their unfortunate deaths. What advice can the therapist give the woman and how can she be plagued by such bad luck?

"He has money."
"You better go get it."

J. Lee Thompson, director of Cape Fear (1962), Conquest for the Planet of the Apes, Battle for the Planet of the Apes, The White Buffalo, Firewalker, Death Wish 4, Kinjite, and Messenger of Death, delivers What a Way to Go. The storyline for this picture was very mediocre and a bit disappointing. I didn't find the characters particularly fascinating but the acting was very good. The cast includes Robert Mitchum, Shirley MacLain, Paul Newman, Dean Martin, Gene Kelley, Dick Van Dyke, and Margaret Dumont.

"What do you expect from me, instance analysis?"

I DVR'd this picture because Paul Newman, one of my all time favorite actors, starred in this picture. He honestly isn't in this picture very much. This film felt like an excuse to put together an all star cast to draw people to the movies. I did think the dialogue between characters was very good as were the interactions, but I didn't find the movie particularly interesting. Overall, this movie is very plain. I'd skip it.

"The plane is ready."

Grade: C
Kevin Robbins
Discussion Forum
Discuss What a Way to Go! on our Movie forum!
News & Features