Whistle Stop
(1946)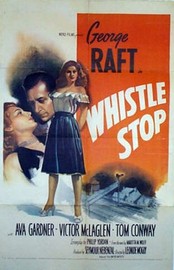 AUDIENCE SCORE
Critic Consensus: No consensus yet.
Tickets & Showtimes
Movie Info
In this drama, Mary (Ava Gardner) returns to her small town after she becomes a success in the city. Meeting up with her old love, Kenny (George Raft), she discovers that he is still the unambitious, lazy man he was when she left, and she begins an affair with nightclub owner Lew Lentz (Tom Conway). When a jealous rivalry arises between Lew and Kenny, the results could be deadly.
more
Cast
News & Interviews for Whistle Stop
Critic Reviews for Whistle Stop
All Critics (3) | Top Critics (1) | Fresh (0) | Rotten (2)
New York Times
Top Critic

Ozus' World Movie Reviews
Melodramático e com uma trama repleta de furos, este pseudo-noir merece créditos apenas por ter oferecido a Ava Gardner seu primeiro grande papel.
Audience Reviews for Whistle Stop
monsieur rick
½
This was a pretty good story . Usually, it's the guy who moves away,
and the girl who stays, and the guy comes back, a lot different, than when he left. Not this film . She's the one who left, became educated,
a little worldly , and was makeing it , in the buisness world .

Meanwhile , he stays back in the small town, and does his own
growing . I can't say much, because , I think it's a film worth watching.
Mark Vaughn
½
When Mary (Gardner) returns to her home town after two years away, she rekindles a rivalry between Kenny (Raft), a two-bit loser she's always loved, and Lew (Conway), the local hotel owner--and hood-- who has always been in love with [i]her[/i]. This time, the rivalry leads to more than just a few thrown punches... this time, it leads to robbery and murder!

"Whistle Stop" feels more like a summary of a story than the actual story. We learn learn next to nothing about the characters other than their most obvious traits (Why does Mary really come back to town? What was she really doing for those two years in Chicago? Why does Lew go to such extreme measures to get even with Kenny... is he really just a bastard?), we learn very little about the deep relationships that exist between them (Why does Gitlo--a resentment-filled employee of Lew, who is played by Victor McLaglan--have such a soft spot for Mary? Has Mary and her family always been the landlords of Kenny's family and is that how they met?). Perhaps if we knew a little more about the characters in the film, the ending would have felt a little less strange.

This is one of those films that's technically well made and features decent performances by all the actors, but which is ultimately undone by a bad script. The end result is okay but unremarkable.


Whistle Stop
Starring: George Raft, Ava Gardner, Victor McLaglan, Tom Conway, and Jorja Curtright
Director: Leonide Moguy
Steve Miller
Discussion Forum
Discuss Whistle Stop on our Movie forum!
News & Features