White God
(2015)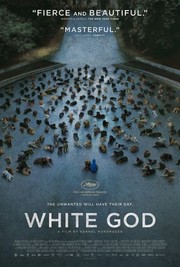 TOMATOMETER
AUDIENCE SCORE
Critic Consensus: White God isn't an easy watch, but its soaring ambition and powerful acting -- human and canine alike -- make it well worth the effort.
White God Trailers & Photos
Movie Info
When young Lili is forced to give up her beloved dog Hagen, because it's mixed-breed heritage is deemed 'unfit' by The State, she and the dog begin a dangerous journey back towards each other. At the same time, all the unwanted, unloved and so-called 'unfit' dogs rise up under a new leader, Hagen, the one-time housepet who has learned all too well from his 'Masters' in his journey through the streets and animal control centers how to bite the hands that beats him.
more
News & Interviews for White God
Critic Reviews for White God
Audience Reviews for White God
½
"White God" starts with 13-year old Lili(Zsofia Psotta) being chased down a street in Budapest by a large pack of dogs while riding her bicycle.

(I would like to take this moment to welcome our future canine overlords. But for now...)

Normally, Lily lives with her mother and stepfather but they are going to a conference in Australia for three months, so she is put in the care of Daniel(Sandor Zsoter), her father, a meat inspector. Not only is he less than thrilled at this, but his reluctance is added to by her dog Hagen being included as part of the package. And then one of Daniel's neighbors rats him out to the authorities for having an unlicensed dog on the premises.

In dramatic visual fashion, "White God" makes two points well. 1. Always be kind towards your pet.(For Lili, Hagen is her anchor during a traumatic time.) 2. Have your kids learn how to play the trumpet.(My nephew is learning, so I'm good.) That's as well as exploring what appears to be the contentious issue of mixed breed dogs in Hungary today. Otherwise, the movie lacks consistency at points, not only due to its being parts neo-realism, straight up horror and hints of science fiction, but also due to one major character reversal that comes without warning.
½
If you're a dog lover, then you'll probably love this title. It received a lot of praise at a small film festival in my hometown.

The movie is about a teenage girl who is attached to her mongrel dog. Her estranged father is put into the position of caretaker of both, and he doesn't get along with the dog, putting tension on their already tenuous relationship. The film does a very good job of showing the difficulties in raising children in broken homes, and how we form bonds with the animals we love.

The film then switches gears and becomes more centered around the topic of animal cruelty. As the focus transitions onto Hagen the dog, and the movie becomes more about him than his human family. I think this was very important, because no film I've ever seen that focuses on an animal as a main character has ever centered on the topic animal cruelty. Usually it's some family fun movie about lost animals finding there way home, or a horror story about a rottweiler cyborg killing people, but this was a much more serious approach. I even saw a few teary eyes in the theater.

Then, unfortunately, the film makes another switch and turns into utter ridiculousness. The dogs then seek revenge on their cruel masters, shunning thousands of years of evolution to become wolf like hunters that require the police and army to step in, as citizens cower in terror of dogs roaming the streets in packs.

This is where I think the film fails most. They turned a movie that could have really brought attention on animal welfare, into something more like a bad Cujo ripoff. This film does such an excellent job of bringing about tough scenes of human cruelty towards an animal that can be someone's best friend, and then turns it into something cheesy and silly, and completely unbelievable. The movie could have said a lot on behalf of animals that are taken advantage of, treated poorly, and physically abused by people.

Even abused animals can be redeemed and are capable of love, and it would have been beautiful to show that. Sadly the movie misses the opportunity to say much about the horrors of animal abuse.

2.5/5
Discussion Forum
Discuss White God on our Movie forum!
News & Features