Who Gets the House?
(1999)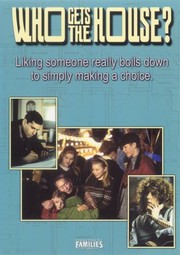 AUDIENCE SCORE
Critic Consensus: No consensus yet.
Movie Info
It's Irreconcilable Differences meets House Arrest, when the Reece children sense that their parents' divorce is imminent, and have a tricky legal contract drawn up granting ownership of the house to themselves, in the family-friendly comedy Who Gets the House. Not only do the parents follow suit and fall prey to the kiddie bait, but the wacky kids -- far more cunning and devious than mom and dad -- devise a hilarious, nutty scheme to reunite their folks, with a little help from a voice-changing telephone add-on device. Timothy J. Nelson directs this family-friendly comedy, which stars Elisha Cuthbert (The Girl Next Door) and Star Trek's George Takei.
more
Cast
News & Interviews for Who Gets the House?
Critic Reviews for Who Gets the House?
All Critics (1) | Fresh (0) | Rotten (1)
Audience Reviews for Who Gets the House?
Four precocious siblings (Cutbert, Isherwood, Isherwood and Mabe) launch a complicated series of schemes to reunite their divorcing parents, helped by a school friend (Kayembe), a housing contractor (Takei) and a radio talk show host (Pfau).

"Who Gets the House" is a harmless bit of fluff that I really wish I could give a higher rating to. It's a nice fantasy about kid power and the last-minute salvation of a family being broken up by parents who have lost interest in making their relationship work. It's also a perfectly wholesome movie that any parent can safely watch with their kids, without worrying about sex, swearing and violence.

Unfortunately, it's boring. There is all sorts of padding here to drag what should at most have been a 75 minute movie to a tortorous 99 minutes. While the intended audience of kids that this movie was made for probably wouldn't think twice about the improbability of the film's set-up (a secretary writes a restraining order that commands the divorcing parents to take turns living in the house instead of the kids moving back and forth every week, a kid takes to a judge who grants it... and the parents don't get an attorney to overturn it), the improbability of the film's climax (that one of the kids would attract the attention of a national radio talk show host who would be willing to conduct an on-air deception of the parents) and the bizarre happy ending where everyone (including Elliott the Contractor) live together in remodeled house, they will be bored by the copious padding in the film. Adults will be doubly-bored because they will be put-off by the film's outrageous premises from the get-go.

It's a shame that more time and effort didn't go into the script for this movie, because a story where parents are put through the sort of discomfort and disruptions they put children through when they get divorced is actually a great idea. I'd love to see it done right.



Who Gets the House? (aka "Who Stole My Voice?")
Starring: Elisha Cuthbert, Sophie Loraine, Carl Marotte, Ricky Mabe, George Takei, Fatuma Kayembe, Emma Isherwood, Sally Isherwood and Tracy Pfau
Director: Timothy J. Nelson
Steve Miller
Discussion Forum
Discuss Who Gets the House? on our Movie forum!
News & Features