Witness to a Kill
(2001)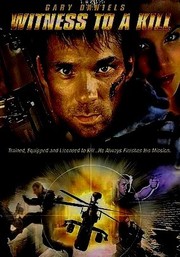 AUDIENCE SCORE
Critic Consensus: No consensus yet.
Witness to a Kill Trailers & Photos
Movie Info
Darrell James Roodt's action thriller Witness to a Kill features Captain Strong infiltrating a criminal gang who has kidnapped two women, one an associate of the British Foreign Minister. Strong's mission is complicated by the fact that there is someone working with the bad guys who is also attempting to assassinate a major governmental figure. ~ Perry Seibert, Rovi
more
News & Interviews for Witness to a Kill
Critic Reviews for Witness to a Kill
There are no critic reviews yet for Witness to a Kill. Keep checking Rotten Tomatoes for updates!
Audience Reviews for Witness to a Kill
Steve Smith
AKA: Queen's Messenger 2 / Diamond Cut Diamond

Flimed entirely in Canada, Gary plays Captain Strong :rolleyes: a generic 'James Bond' British agent who is sent on a mission to protect a german woman who's brother was killed by the bad guy...Wolfe played by Nick Boraine.

Ok, where to start...:rolleyes: this is one of those action movies you know before u rent that it will be bad, but your curious to see just HOW BAD it could be. I hate these movies where the action scenes are so spread out between completely useless plot and worthless character development. Noone cares about how the damsel in distress feels about their past relationship, just get on with some action please! Having to endure painfull acting scenes between Gary and Francoise Yip is more than enough torure.

There is a pointless love triangle that is done very badly, of course, between Gary, Eva Habermann, and Francoise Yip. Great more useless sub-plot to further drive the nail in the coffen :rolleyes: .

Other than a few martial arts scenes, this is a gun fight movie. Gary shines as usual :cool: . The ending where Gary chases Wolfe on foot through warehouse catwalks while Wolfe is on a motorcycle and Gary somehow manages to catch up with him and tackel him mid-air, um...yeah right :rolleyes: . Also the grenade scene where Gary pushes Eva Habermann to safety while the grenade is 2 feet away, the explosion suddenly becomes 20 feet away...um okay. :rolleyes:

I read on [url="http://www.garydaniels.narod.ru/qm2_eng.html"]http://www.garydaniels.narod.ru/qm2_eng.html[/url] that the budget was 4,000,000 !?! What the hell!?! :eek: I like Gary Daniels, but the movies he gets involved in are pathetic....but I guess you got to get food on the table somehow. :)
David Baranowski
Downright boring action movie, rather tedious. The characters are not appealing at all, making it hard to get involved in the film. Not much excitement in this one.
James Higgins
Discussion Forum
Discuss Witness to a Kill on our Movie forum!
News & Features