Wu xia (Dragon)
(2012)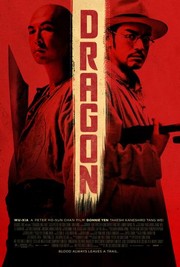 Tickets & Showtimes
Wu xia (Dragon) Trailers & Photos
Movie Info
Liu Jin-xi (Yen) is a village craftsman whose quiet life is irrevocably shattered by the arrival of two notorious gangsters in the local general store. When Liu single-handedly saves the shopkeeper's life, he comes under investigation by detective Xu Bai-jiu (Kaneshiro). Convinced that Liu's martial arts mastery belies a hidden history of training by one of the region's vicious clans, Xu doggedly pursues the shy hero-and draws the attention of China's criminal underworld in the process (c) Weinstein Co.
more
Cast
News & Interviews for Wu xia (Dragon)
Critic Reviews for Wu xia (Dragon)
Audience Reviews for Wu xia (Dragon)
Not a bad action-drama with Donnie Yen and Takeshi Kaneshiro as what I thought the Chinese epic film is a version of The History of Violence.
As the enigmatic paper-maker in a small idyllic town with the unassuming name Liu Jinxi, Yen has finally delivered a performance which equals that of Ip Man, one that showcases his best as a dramatic actor and as a martial artist.
Aubrey Lam's story raises a number of moral dilemmas, in particular whether a man can truly start anew without having to atone for his past sins, and whether there is a place for humanity in a world governed by laws and regulations. This is at the very heart of the complex intertwining relationship between Liu and Xu (played by Kaneshiro), and a fascinating one which director Peter Chan explores with panache. There is no hero or villain between the two rather, both are simply pushed up against each other by their past and the circumstance by which they had made their mutual acquaintance.
Dean McKenna
Super Reviewer
½
Wu Xia, from director Peter Chan, is part action and part mystery. Does it work well together? Indeed.Running roughly around 110 minutes, Wu Xia successfully puts much needed emphasis on story. The pacing isn't exactly snappy, and with little in the way of martial arts in the first 2/3rds of the film, Wu Xia flourishes on the mystery behind one of its title characters.The action, while limited in the early going and maybe even in the latter portions, contain excellent choreography thanks to the brilliant mind of Donnie Yen. The resulting martial arts fights are quickly paced and visually pleasing, leaving the want for more.Takeshi Kaneshiro takes charge when it comes to the acting, as he should when Donnie isn't displaying his martial arts skills. Wei Tang ends up as a lovely innocent house-wife, while Kara Hui is amusing with her double swords.Wu Xia does have the potential to be an all out martial arts action adventure, but instead elects to become a more well-rounded picture. In this instance it works out nicely.
Discussion Forum
Discuss Wu xia (Dragon) on our Movie forum!
News & Features