Patlabor WXIII - The Movie
(2003)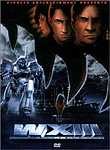 Tickets & Showtimes
Movie Info
This third Patlabor movie finds detectives Kusumi and Sinichiro investigating a string of deadly labor accidents in Tokyo Bay. Kusumi discovers that Sinichiro's new girlfriend, a genetic research assistant, could hold a secret that is vital to their investigation, and he is determined to unearth it one way or another. With loyalties clashing and government and military cover-ups abounding, they eventually get a glimpse of the treacherous secret weapon WEXIII: Wasted Thirteen. Now the two detectives must work with the army as well as the government in order to prepare for a clash between the Patlabors and the deadliest weapon ever built. ~ Cammila Collar, Rovi
more
News & Interviews for Patlabor WXIII - The Movie
Critic Reviews for Patlabor WXIII - The Movie
Audience Reviews for Patlabor WXIII - The Movie
a visualy impressive movie with a solid character base, and a storyline that makes you really think.
josh reynolds
[center][img]http://gallery.point-blank.cc/albums/pl3/aab.jpg[/img][/center]

Looking at the base of the plot, WXIII appears to be another monster movie. I was delightfully surprised when I witnessed this was a way above average film. So what exactly seperates this film from endless Godzilla clones? Simple: Focus more on the characters and a lot less on the monster.

It is the near future where robots called Labors are used for construction. When a Labor turns up underwater ripped to shreds for unexplained reasons, the police are on the case. Hata, a young detective, tracks down the source of these attacks with an old-timer detective called Kusumi. These two could not be more different. Hata keeps tabs on the internet and becomes too involved with the suspects while Kusumi gets around with a cane and seperates himself from his family. Their investigation leads them to a science institute where it turns out that the monster is actually composed of the skin for a new cancer treatment. The twist here is that the skin cells are from the dead daughter of Hata's latest girlfriend. Aside from the ties to the beast there is also an interesting element of sound that comes into play with the beast. WXIII is based on the Patlabor TV series the mainly focused on a group of police officers who pilot robots as defense. While these characters do show up, they are placed in the background to focus on two lesser characters of the series giving them a bigger role outside of secondary characters.

Of course, being a monster film, you can expect some violent attacks and a climatic battle involving the robot police force. However, there are only about two scenes involving these elements. The rest are spent developing the main characters and I'm glad the film went this direction. These characters are fun to follow and have their own interesting personalities. I also loved the enviornment these characters interact with. From the rainy scenery of the highway to gorgeous design of the institute, every scene is filled with beauty and the haunting soundtrack only adds to the atomsphere. The music from Kenji Kawai is some one of the most alluring soundtracks I have ever heard. The animation is nothing short of what I expect from Production I.G. Great character designs, terrific colors, and CG that doesn't overwhelm the 2D elements make for some beautiful eye candy.

For a film that is suppose to be about monsters and robots, director Takayama Fumihiko certainly chose to take a very subtle approach and it certainly works. This is a film that could have been lead down a predictable and ultimately boring route. Thank goodness there are directors out there willing to take a simple premise and make it interesting.
Madness Mark
Discussion Forum
Discuss Patlabor WXIII - The Movie on our Movie forum!
News & Features