You're Not You
(2014)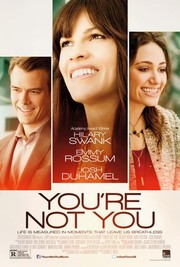 You're Not You Trailers & Photos
Movie Info
Academy Award (R) winner Hilary Swank (Conviction, Million Dollar Baby) and rapidly rising star Emmy Rossum ("Shameless")intertwine in You're Not You, a surprisingly funny, defiantly unsentimental and starkly moving portrait of a high-stakes friendship between two women - one literally in need of a voice, the other discovering the full power of hers. (C) eOne
more
Cast
News & Interviews for You're Not You
Critic Reviews for You're Not You
Audience Reviews for You're Not You
Hilary Swank gives quite a performance in You're Not You. This is not a happy fun movie, but it is an interesting look at a life affected by ALS. Yes, it's a tearjerker, if you can stand watching it to the end.

While this is a fictional story, it's clear that some understanding of how the disease progresses and how caregivers and family are affected went into it. I've known people with wasting diseases personally, and this looked realistic.

Not only does the disease rob an individual slowly of their ability to move, until they waste away to death, it robs a family and a circle of someone they care about. The movie depicts the reactions and coping mechanisms of Kate's circle of family and friends fairly well.

The main caregiver, Bec, receives something special from the work and connection she has with Swank's character, Kate. I think in real life, that's often true of those who have the privilege and burden of caring for these people, if they have the capacity to let themselves stay emotionally attached and present. The need for many to detach and let go was also shown.

The storyline was overall depressing, and it could have been lighter if writers had given Kate a more positive outlook and happier outcome with her relationship with her husband, Evan. At least they gave another dying character, Marilyn, a happy situation with her husband, John, which was a positive contrast.

Kate's husband leaves, in large part because she pushes him away. While intimacy obviously can't be the same for a couple when one of them loses the ability to move, Swank's character in my view foolishly chooses nothing if she can't have all. Kate is devastated when she finds out her husband, who still loves her but no longer is sexually interested in her, has found comfort elsewhere to help him cope, while always trying to be strong and supportive in front of her. I would have liked to see her try to work things out with him more, but instead, because of her feelings of hurt and betrayal, she cuts him out of her life, isolating herself to a miserable degree.

At least Kate had a loyal caregiver, Bec, to see her through to the end. In reality, for one caregiver to be the be-all that Bec was in this movie is unrealistic. It takes a team to care for someone with such high needs, and one person alone is not able to do it.

Bec's loyalty, steadfastness, compassion, and understanding are a much needed pillar and sweetness at the end of Kate's life.

Things actually end on a positive note, because Bec is better off for having known Kate, and we see her move forward in a positive direction.
Another View
Having walked with end-stage disease families for 30 years, what is sad is critics so taken with themselves or inexperienced with this disease that they can eschew this movie with criticisms like "melodramatic" and "disease of t h e week." The rotten tomato is on you!
Eric gustafson
Discussion Forum
Discuss You're Not You on our Movie forum!
News & Features