Marvel's Daredevil: Season 1
(2015)
SEASON: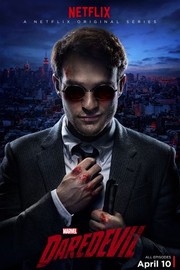 TOMATOMETER
AUDIENCE SCORE
Critic Consensus: With tight adherence to its source material's history, high production quality, and a no-nonsense dramatic flair, Daredevil excels as an effective superhero origin story, a gritty procedural, and an exciting action adventure.
Episodes
Air date: Apr 10, 2015
Murdock's vigilante crime fighting and his new law practice find equally dangerous challenges in a murder case tied to a corporate crime syndicate. --(C) NetflixMore
Air date: Apr 10, 2015
Murdock and Foggy take on a mysterious wealthy client, but Murdock is convinced that there's more to the chase than just the facts. --(C) NetfixMore
Air date: Apr 10, 2015
Two brutal Russian brothers working for Fisk target Daredevil. Elsewhere, Fisk makes a power play to rise in the criminal underworld.More
Air date: Apr 10, 2015
Fisk moves forward with plans that threaten to rip Hell's Kitchen apart. Murdock and Foggy take on a case helping tenants victimized by a slumlord. --(C) NetflixMore
Air date: Apr 10, 2015
While Murdock, Foggy and Karen's mission becomes clearer, Fisk's world spins further out of control in this battle for Hell's Kitchen. --(C) NetflixMore
Air date: Apr 10, 2015
When Fisk gains the upper hand, the goal to destroy him becomes even more difficult, while Daredevil faces his own demons. --(C) NetflixMore
Air date: Apr 10, 2015
Murdock and Foggy's relationship is put to the ultimate test while a new enemy against Fisk emerges. --(C) NetflixMore
Marvel's Daredevil: Season 1 Trailers & Photos
Tv Season Info
"Marvel's Daredevil" is a live action series that follows the journey of attorney Matt Murdock, who in a tragic accident was blinded as a boy but imbued with extraordinary senses. Murdock sets up practice in his old neighborhood of Hell's Kitchen, New York where he now fights against injustice as a respected lawyer by day and masked vigilante at night. --(C) Netflix
Cast
News & Interviews for Marvel's Daredevil: Season 1
Friend Ratings for Marvel's Daredevil: Season 1
No Friends? Inconceivable! Log in to see what your friends have to say.
Login
Audience Reviews for Marvel's Daredevil: Season 1
½
I like dark and gritty. And dark and gritty on Daredevil is definitely the way to go if you want to make a more grounded superhero series. It's a complex enough character with very cool side-kicks, plenty of gangsters and masked dudes to kick his ass very often. This isn't your typical hero. He kicks some major ass but he gets his ass served more times than you can count too. That makes us root for this guy, who's really trying to make the city he lives in a better place but where he's also one step too close to become what he's trying to fight.

Then we have a character with the same motivations but doing things on a very different scale and level. I'm obviously talking about the Kingpin, which is played rather well by Vincent D'Onofrio. Instead of being a loudmouth like he's usually portrayed, in here he's just a very shy and socially awkward guy, with an immense rage inside that obviously explodes very often. A bit of a cliché but works for the most part.

The main draw on the show is that the writing is not that great. There's plenty of cringy dialogue and clichéd phrases running amok to truly immerse us on this show, but it's still better than your usual stuff. Some episodes are needlessly too long and sometimes take too much time to develop. Storylines and characters show up for very few episodes (Rosario Dawson, are you even a main character as advertised?), leaving us a bit dry in the end, which is a bit worrying since we're having other super-hero shows coming up next on Netflix, that will converge alongside Daredevil into the Defenders and we still don't have a confirmation for S02 for Daredevil itself, turning all of it into a mess.
Francisco Godinho
Super Reviewer
Marvel takes a bold step in "re"introducing their blind-vilgilante/lawyer in this Netflix series. Daredevil is pure action and storytelling with diverse direction and an intense narrative. The series' first season makes up for the 2003 film's presentation of the comic-book-superhero with invested characters, surreal tone and dramatic sequences. 4/5
Whether you like the 2003 version of "Daredevil" starring Ben Affleck or not, strap yourselves in, because this Netflix Original Series is eons better. As this has an entirely new (and better) cast, a much more fleshed out story, and characters that the film could just not get right, I will leave it at that, as far as comparisons go. This series stands on it's own. Following Matthew Murdock and his partner at law, Foggy Nelson, they build their reputation as a law firm, as Matt, a blind man, disguises himself at night to fight crime. Dressing in black and using his scent and hearing, he is able to detect his surroundings, almost like a super human. Marvel has not really been all that great in their villain category, as the films dive deeper into the heroes and leave the villains as a side character for them to be able to fight someone or something. This series delves deeper into the villains backstory (ie. Wilson Fisk), fleshing out the heroes and villains equally, making for one hell of an emotional first season.

Having no restrictions, Marvel pairing with Netflix truly could not have been a better call, especially for this character. When the violence really needs to hit in order for the audience to feel the impact, they go all out, which I really admire. The secondary characters in Karen Page and Claire Temple only added more depth to the main characters, as some of them may or may not find out who Matt really is when he is not around. The writing, direction, action, characters, camerawork, and execution of this overall story is pitch perfect compared to any other incarnation we have seen from the character before. I loved every episode of this first season and I can not wait for this show to continue. You can tell they want to build to something bigger.
Discussion Forum
Discuss Marvel's Daredevil on our TV talk forum!
News & Features