Lost: Season 2
(2005-2006)
SEASON: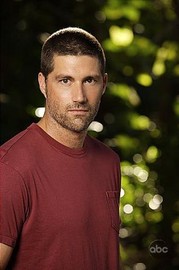 AUDIENCE SCORE
Critic Consensus: No consensus yet.
Episodes
Air date: Sep 21, 2005
Flashbacks of Jack attempting to perform successful surgery on an injured bride-to-be who longs to grace the dance floor on her wedding day are inter-cut with Shannon and Sayid's efforts to find Walt's dog Vincent and the group's attempt to finally explore the mysterious hatch. After noticing the formidable depth of the hatch, Jack convinces the group to head back to beach camp, where the rest of the survivors are clearly panicked at the prospect of The Others arriving. While Jack assures everyone that they will be fine if they only remain together, Locke and Kate blatantly defy him by secretly making their way back to the hatch. Meanwhile, out in the jungle, Sayid and Shannon search for Vincent and Shannon has a mysterious vision of Walt - who was thought to be out on the raft with his father Michael. As Jack drifts back into the past once again, he recalls a conversation that he had with a stranger named Desmond who also dreamt of becoming a doctor. Later, when Jack tracks Locke and Kate back to the hatch and descends to find out what's happening down below, he suddenly finds himself in a tense standoff with Desmond - who threatens to shoot and clearly appears capable of doing so.More
Air date: Sep 28, 2005
Revived by Sawyer and realizing that Walt is now missing, tormented father Michael screams out for his son as he flashes back to the original time he lost Walt in a bitter custody battle. Out on the raft, Sawyer is bleeding from a gunshot wound, Michael is struggling to breathe, and Jin is nowhere to be found. Back on dry land, Claire questions Charlie about the Virgin Mary statue she has discovered as the confrontation that previously took place between Locke, Kate, Desmond, and Jack down in the hatch play out form an entirely new perspective. While Sawyer and Michael eventually manage to make their way back to the beach following a harrowing close encounter with a strangely marked shark, their luck appears to turn bad when Jin dashes out from the trees with his hands bound behind his back. Behind him, a motley looking crew gives chase before quickly turning their attentions -and weapons - towards the other two waterlogged survivors.More
Air date: Oct 5, 2005
After already witnessing the confrontation in the hatch play out from two different perspectives, the events now play out as Kate experienced them. Once Desmond is overpowered, he frantically explains that he was participating in a solo sailing race around the world when his boat hit a reef and a man named Kevin came to his rescue. After brining Desmond down into the hatch, Kevin informs him that a special sequence of numbers must be entered into the computer every 108 minutes in order to "save the world." In order to back his claim up Desmond directs Locke and Jack's attention to an orientation film produced by the Dharma Initiative - a countercultural research project initiated in the 1970s - in which an official looking man in a white lab coat provides instructions for entering the numbers. While Jack is convinced that the whole thing is little more than a psychological experiment, Locke isn't quite sure and Desmond struggles to fix the computer, which was damaged in the stand off. Eventually, Desmond flees, leaving Sayid to repair the computer just in time to enter the numbers. In flashbacks, Locke's girlfriend Helen proves to him that sometimes in life it's worth taking a leap of faith - a lesson that Locke conveys to the skeptical Jack while trying to convince him that entering the numbers could be a matter of life or death. Back on another part of the island, Jin, Michael, and Sawyer's captors throw the confused trio into an underground cage.More
Air date: Oct 12, 2005
Assigned the task of taking inventory of the food discovered in the hatch's pantry, a deeply troubled Hurley fears that everyone in the camp will soon despise him as he recalls the time he won the lottery and attempted to keep the news a secret from his best friend. In the past, Hurley's secretiveness backfired on him. Now, with orders of keeping the food supplies tightly hushed up, he fears that the same thing is about to happen all over again. Meanwhile, on another part of the island, Sawyer, Jin, and Michael and called to the surface by their captors, who subsequently reveal themselves to be survivors from the tail end of Oceanic flight 815. Their leader, Ana Lucia, and Sawyer clash immediately, and is gradually becomes apparent that The Others have inflicted great torment on this small but determined group. As Charlie pesters Locke for more information on the hatch, Claire discovers the message bottle from the raft and reveals her find to Sun - who immediately buries it so that the rest of the survivors won't lose hope. Back in the hatch, Sayid ponders the strange magnetic wall as Hurley prepares to blow up the food with the remaining dynamite.More
Air date: Oct 19, 2005
As Jin, Michael, and Sawyer are slowly marched towards their camp by Ana Lucia and the rest of the so-called Tailies, Sun is devastated to notice that her wedding ring has slipped off of her finger and is now missing. Though Sun is inconsolable at the loss, Jack and Hurley do their best to keep her distracted to no avail. When Michael makes a desperate escape from the Tailies, Ana Lucia demands that the group press on without him. Jin, however, is insistent that the group sets out in search of Michael, eventually standing his ground to the point where he and Mr. Eko come to blows. Recognizing Jin's loyalty, Mr. Eko agrees to defy Ana Lucia's orders and assist in the search for Michael. After a close call with The Others, Jin and Mr. Eko do locate Michael, though the troubled father refuses to return to the camp until he has found his son. Eventually, Jin convinces Michael to rejoin them on their rip back to the camp, and a series of flashbacks reveal Jin's attempt to become something more than a common fisherman's son while earning the love of the privileged Sun. Later, Sun realizes her wedding ring had been buried with the message bottle.More
Air date: Nov 9, 2005
As Shannon attempts to rest in the makeshift tent constructed for her by Sayid, she experiences another disturbing vision of Walt that leaves her completely shaken. Gradually, a series of flashbacks reveal that Shannon was once a ballet instructor hoping to land an internship at a prestigious New York dance company. When her father is killed in a car accident, however, Shannon's dreams all go up in flames when her stepmother refuses to give her the money she needs to stay afloat during the unpaid internship. Meanwhile, back in the present, Charlie questions Claire's parenting skills; upsetting the struggling mother and inadvertently revealing to Locke that he has since slipped back into addiction. As the Tailies, Jin, and Michael attempt to get an infected Sawyer back to the camp before he succumbs to the poison coursing through his veins, Shannon sets out into the woods with Vincent in search of Walt. Sayid gives chase, but Shannon voices fear that he just thinks she is crazy and will no doubt leave her as soon as they are rescued. When Sayid sees Walt in the foliage, Shannon dashes into the trees and tragedy strikes.More
Air date: Nov 16, 2005
As Oceanic Flight 815 plummets out of the sky towards the beautiful but mysterious tropical island below, the story of the so-called "Tailies" begins to unfold much in the same manner as it did with Jack and the other survivors. Flaming wreckage is everywhere, and the beach is in chaos. As Mr. Eko emerges from the water with a young girl named Emma, Ana Lucia rushes to give the girl mouth-to-mouth resuscitation. Bernard, Libby, and Cindy are all there, too. But over the course of the next forty-eight days, the twenty-three survivors from this section of the plane will fast find their numbers dwindling. Following the initial attack in which Mr. Eko kills two invaders and Ana Lucia emerges as the group leader, a second wave of invaders descends to abduct the children. During the fracas, Ana Lucia kills one of the attackers and discovers a list detailing the names of everyone who has been taken. Deducing that someone within their ranks is a traitor, Ana Lucia singles out Nathan - whom nobody remembers from the flight. But Ana Lucia has fingered the wrong man, a fact she only realizes after she and Goodwin attempt to try the radio they found in an abandoned bunker. Later, after Ana Lucia and Goodwin engage in a life or death struggle and Mr. Eko finally breaks his forty day vow of silence, Bernard responds to a perplexing distress call from Boone and the worlds of these two groups gradually begin to converge.More
Air date: Nov 23, 2005
As Shannon falls dying into Sayid's arms, the insanity within him begins to swell and he turns his gun on Ana Lucia - who fired the fatal bullet. Thinking fast, Mr. Eko is able to subdue Sayid before he exacts his vengeance, and Ana Lucia knocks Sayid out and assets her leadership. Through flashbacks, it's gradually revealed that Ana Lucia hails from a long line of cops but a sudden tragedy nearly killed her. When Sayid regains consciousness, Ana Lucia finds hear authority challenged from all sides: Michael and Jin want to rush the ailing Sawyer back to the camp, and Bernard wants desperately to be reunited with Rose. Still, Ana Lucia does her best to regain control despite the fact that she is clearly slipping. Eventually, after Mr. Eko picks up Sawyer and informs Ana Lucia that he is taking the sick man back to the camp in direct opposition to her orders, she relents. The others are quick to follow, leaving Ana Lucia and the enraged Sayid alone together. As Jin leads his friends back to the camp for an emotional reunion, Ana Lucia throws caution to the wind by cutting Sayid free and dropping the gun at his feet.More
Air date: Nov 30, 2005
As the survivors lay Kate to rest and Sayid's eloquent eulogy for Shannon moves the mourners to tears, Kate experiences a vivid vision that sends he back to the days when she first became a fugitive. As the dawn washes over the beach where Jin and Sun share a quiet moment together, Kate climbs up a tall tree in hopes of gathering some mangoes. Though a clumsy slip as she slides down the trunk of the tree throws Kate momentarily off balance, she eventually regains her footing while gathering the fruit and glimpses what seems an impossible sight - a beautiful black horse standing just a few yards away. Flashing back to a pivotal night in her childhood home, Kate recalls waiting on the stairs for her father to arrive home. When the old louse does finally show up, it's obvious he's drunk and that his intentions are far less than fatherly. Eventually, Kate manages to fend off his awkward advances. After tucking him in bed, Kate gets on her motorcycle casually rides away as the house erupts into flames. Unfortunately for Kate the authorities are faster than she suspected, and as she tries to catch the next bus out of town she is easily apprehended by the marshal with whom she would later board Oceanic Flight 815. That night, while being escorted back to Iowa by the marshal during a torrential downpour, Kate escapes after her captor crashes into a telephone three after swerving to avoid a black horse in the middle of the road. Later, in the hatch, Kate leaves Sawyer and the computer unattended following a disturbing incident.More
Air date: Jan 11, 2006
Mr. Eko questions Charlie about the Virgin Mary statue; Claire begins to lose faith in Charlie when she discovers his secret; and Kate gives Sawyer a haircut.More
Tv Season Info
Some of the island's mysteries and dangers are revealed during the second season, which spans 23 days (November 4-27, 2004) and opens with Jack (Matthew Fox), Kate (Evangeline Lilly) and Locke (Terry O'Quinn) venturing into the hatch for the first time. There they discover Desmond (Henry Ian Cusick), whose job is to key a numeric sequence into a computer every 108 minutes. They eventually learn that the reason for this task (later undertaken by Locke) is to prevent the release of damaging electromagnetic activity (which can cause plane crashes, for instance). They also learn that the hatch and other structures on the island were built in the 1970s by a scientific research group called the Dharma Initiative. The survivors make their first sustained contact with passengers from Flight 815's tail section, led by a paranoid former cop named Ana Lucia (Michelle Rodriguez) and including psychologist Libby (Cynthia Watros) and a Nigerian drug dealer named Mr Eko ( Adewale Akinnuoye-Agbaje ). … More
Cast
News & Interviews for Lost: Season 2
Friend Ratings for Lost: Season 2
No Friends? Inconceivable! Log in to see what your friends have to say.
Login
All Critics (3) | Top Critics (1) | Fresh (3) | Rotten (0)
Miraculously, the second season of the show stepped up to the Herculean task of making sense of the bombshells.
Season Two wasn't quite as brilliant as Season One, but for the most part Lost avoids that second year slump so many new shows fall into and continued to deliver some of the best stories on television.

Audience Reviews for Lost: Season 2
Discussion Forum
Discuss Lost on our TV talk forum!
News & Features