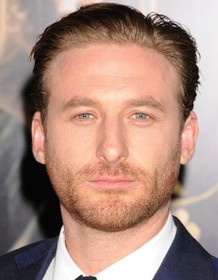 Dean O'Gorman
Highest Rated: 100% Pork Pie (2017)
Lowest Rated: 64% The Hobbit: An Unexpected Journey (2012)
Birthday: Dec 1, 1976
Birthplace: Auckland, New Zealand
Dean O'Gorman has played everything from hospital nurses to arrogant Norse gods, but ironically, his biggest role is also his smallest: in 2012, he portrayed warrior dwarf Fili in Peter Jackson's highly anticipated "The Hobbit: An Unexpected Journey." His career began in 1990 with minor roles in made-for-TV movies, and by 1995 he had landed the recurring role of a young Iolaus on the fantasy action series "Hercules: The Legendary Journeys" and "Young Hercules." Since then, he's portrayed an adventure-seeking suburbanite in the road thriller "Snakeskin" and a cheating boyfriend who meets his match in the romantic comedy "Toy Love."
Photos
TRUMBO, Dean O'Gorman, as Kirk Douglas, 2015. ph: Hilary Bronwyn Gayle/©Bleecker Street Media
THE HOBBIT: THE BATTLE OF THE FIVE ARMIES, from left: Dean O'Gorman, Aidan Turner, 2014. ph: Mark Pokorny/©Warner Bros.
THE HOBBIT: AN UNEXPECTED JOURNEY, l-r: Dean O'Gorman, Aidan Turner, Mark Hadlow, Jed Brophy, William Kircher, 2012, ph: Mark Pokorny/©Warner Bros. Pictures
THE HOBBIT: AN UNEXPECTED JOURNEY, Stephen Hunter (left), James Nesbitt (back left), director Peter Jackson (hands raised), Martin Freeman (left of center), Richard Armitage (center), Aidan Turner (right of center), Dean O'Gorman (holding bag), William Kir
THE HOBBIT: THE DESOLATION OF SMAUG, front: director Peter Jackson, in barrels, front, from left: Jed Brophy, Dean O'Gorman, second row, from left: Richard Armitage, Graham McTavish, Aidan Turner, on set, 2013. ph: James Fisher/©Warner Bros. Pictures
THE HOBBIT: AN UNEXPECTED JOURNEY, from left: Dean O'Gorman, Richard Armitage, 2012. ph: Mark Pokorny/©Warner Bros. Pictures
THE HOBBIT: AN UNEXPECTED JOURNEY, from left: Dean O'Gorman, Richard Armitage, 2012. ph: Mark Pokorny/©Warner Bros. Pictures
The Almighty Johnsons, Dean O'Gorman, 'Man-flu', Season 2, Ep. #8, 11/27/2014, ©SYFY
The Almighty Johnsons, Dean O'Gorman, 'Man-flu', Season 2, Ep. #8, 11/27/2014, ©SYFY
The Almighty Johnsons, Dean O'Gorman, 'Man-flu', Season 2, Ep. #8, 11/27/2014, ©SYFY
The Almighty Johnsons, Dean O'Gorman, 'Frigg Magnet', Season 2, Ep. #2, 11/06/2014, ©SYFY
The Almighty Johnsons, Dean O'Gorman, 'And Then She Will Come to You', Season 2, Ep. #1, 11/05/2014, ©SYFY
The Almighty Johnsons, Dean O'Gorman (L), Alison Bruce (R), 'Every Good Quest Has A Sacrifice', Season 1, Ep. #10, 09/05/2014, ©SYFY
The Almighty Johnsons, Dean O'Gorman, 'Every Good Quest Has A Sacrifice', Season 1, Ep. #10, 09/05/2014, ©SYFY
The Almighty Johnsons, Dean O'Gorman, 'I Can Give You Frigg', Season 1, Ep. #8, 08/29/2014, ©SYFY
The Almighty Johnsons, Dean O'Gorman, 'I Can Give You Frigg', Season 1, Ep. #8, 08/29/2014, ©SYFY
The Almighty Johnsons, Dean O'Gorman (L), Timothy Balme (R), 'I Can Give You Frigg', Season 1, Ep. #8, 08/29/2014, ©SYFY
The Almighty Johnsons, Dean O'Gorman, 'Everything Starts With Gaia', Season 2, Ep. #9, 12/03/2014, ©SYFY
The Almighty Johnsons, Jared Turner (L), Dean O'Gorman (R), 'It's Kind Of A Birthday Present', Season 1, Ep. #1, 07/11/2014, ©SYFY
The Almighty Johnsons, Dean O'Gorman, 'This Is Where Duty Starts', Season 1, Ep. #2, 07/18/2014, ©SYFY