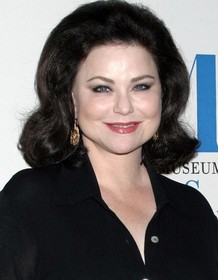 Delta Burke
Highest Rated: 54% What Women Want (2000)
Lowest Rated: Not Available
Birthday: Jul 30, 1956
Birthplace: Orlando, Florida, USA
A pert, sassy American TV leading lady and comedienne, Delta Burke, a former Miss America contestant, has kept very busy on primetime during the 1980s and 90s, most memorably as flirtatious but sometimes bitchy Southern belles. Burke's wide-eyed, rapid-fire line delivery and scene-stealing comic timing enlivened just such a role in "Designing Women" (CBS, 1986-91), a successful sitcom about four high-profile but highly diverse interior decorators. Unfortunately, Burke has also made tabloid news with her weight problems, her temperament-induced spats with producers, and her marriage to TV actor Gerald McRaney ("Simon and Simon," "Major Dad"). Her subsequent attempts to find a comedy vehicle have been unsuccessful. "Delta" (ABC, 1992-93), which featured her as a bleached blonde who moved to Nashville to pursue the dream of becoming a country singing star, did not appeal to a wide audience, nor did her reprise of her most famous character, Suzanne Sugarbaker in "Women of the House" (CBS, 1995). Burke returned to sitcoms playing the First Lady in "DAG" (CBS, 2000-01).
Photos
WHAT WOMEN WANT, Delta Burke, Mel Gibson, Valerie Perrine, 2000"
SORDID LIVES, Earl Houston Bullock, Delta Burke, Beau Bridges, Newell Alexander, 2000, TM & Copyright (c) 20th Century Fox Film Corp. All rights reserved.