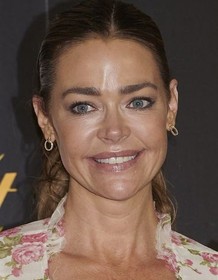 Denise Richards
Highest Rated: 100% Tammy and the T-Rex: Gore Cut (2019)
Lowest Rated: Not Available
Birthday: Feb 17, 1971
Birthplace: Downers Grove, Illinois, USA
Denise Richards was born outside of Chicago in suburban Downer's Grove, IL, on February 17, 1971. She and her younger sister spent their early years in the area before her parents moved the family to San Diego when Richards was in her early teens. The future swimsuit model thrived in Southern California, where she was a high school cheerleader and was encouraged to pursue modeling. Following her graduation in 1989, Richards moved straight to New York City, where she shared an apartment with half a dozen other aspiring models and began finding work. Her fresh-faced look eventually landed a deal with Bonne Bell cosmetics, but she also traveled around the world on mainly swimsuit shoots. Her 5 '6'' height was short by modeling standards and runway work was not in the cards, so Richards decided to branch out into acting. She returned to Southern California and began appearing on such shows as "Saved by the Bell'' (NBC, 1989-1993) and "Beverly Hills, 90210" (Fox, 1990-2000). She received a bit of a profile boost after an appearance in an episode of "Seinfeld" (NBC, 1989-1998). Richards made her feature debut with a cameo in "National Lampoon's Loaded Weapon I" (1993) and resumed a busy schedule of forgettable guest spots on "Lois & Clark: The New Adventures of Superman" (ABC, 1993-97) and short-lived nighttime soaps like "One West Waikiki" (1995) and "High Tide" (1995) before landing the recurring role of beauty contestant Brandy Carson on Fox's "Melrose Place" (Fox, 1992-99). At this point in her career, Richards had smaller roles, but it was enough of a pedigree for director Paul Verhoeven, who decided to cast relative unknowns in the leading roles of his sci-fi actioner "Starship Troopers" (1997). Richards' saving grace was the fact that Verhoeven was apparently going for a cheap, B-movie look where wooden acting was part of the package. The film was a surprising box office hit that even charmed a moderate number of critics, giving Richards the street cred for another leading role in John McNaughton's sexy cult thriller "Wild Things" (1998), co-starring established actors Kevin Bacon, Neve Campbell and Matt Dillon. After "Wild Things,"Richards landed a shot at cheesecake infamy when she was tapped to be the next Bond girl, essaying munitions expert Dr. Christmas Jones in "The World Is Not Enough" (1999). Richards played a beauty pageant contestant in "Drop Dead Gorgeous" (1999), and was in the direct-to-video horror thriller "Valentine" (2001). Richards may have all but disappeared from the public eye, were it not for her romance with and subsequent 2002 marriage to actor Charlie Sheen after the two co-starred in the straight-to-cable film, "Good Advice" (2001). Richards returned to theaters as the White She-Devil of the modest hit comedy "Undercover Brother" (2002) and she and Sheen appeared together again in the broad comedy hit "Scary Movie 3" (2003). After making a brief cameo in the well-received romantic comedy "Love Actually" (2003), Richards appeared in a best-selling nude pictorial in the pages of Playboy magazine. She tackled a more dramatic role as a broke grad student tempted into prostitution by a hooker (Daryl Hannah) in the low-budget "Whore" (2004). The actor then had a starring role in the road comedy, "Elvis Has Left the Building" (2005), and was cast on the short-lived UPN soap drama, "Sex, Love and Secrets" (2005-6). In early 2009, Richards was announced as one of the contestants on season eight of "Dancing with the Stars" (ABC, 2005- ), and found herself eliminated in the second week of competition. In 2011, Richards released her memoirs, "The Real Girl Next Door," which detailed her life before, during and after Charlie Sheen, and was a New York Times bestseller. On the big screen, she co-starred with Leelee Sobieski and Matthew Davis in the porn-themed indie romantic comedy, "Finding Bliss" (2010), before appearing in the direct-to-DVD comedy "Cougars, Inc." (2011). Richards had a guest starring role on Sheen's new sitcom, "Anger Management" (FX, 2012-14), and appeared in Tyler Perry's "Madea's Witness Protection" (2012) and low-budget comedy "Freeloaders" (2012). Following a supporting role on the teen mystery drama "Twisted" (ABC Family 2013-14), Richards appeared in the thrillers "American Violence" (2017) and "American Satan" (2017), followed by supernatural horror film "The Toybox" (2018). After her ill-fated marriage to Charlie Sheen, Richards pieced her life back together while successfully balancing being a single mother and working actress before joining the cast of long-running reality staple "The Real Housewives of Beverly Hills" in 2018.
Photos
Denise Richards
THE THIRD WHEEL, Denise Richards, 2002, © Miramax
THE THIRD WHEEL, from left: Denise Richards, Luke Wilson, Ben Affleck, Jay Lacopo, 2002, © Miramax
THE WORLD IS NOT ENOUGH, Sophie Marceau, Denise Richards, 1999, (c) United Artists
THE WORLD IS NOT ENOUGH, Denise Richards, 1999, (c) United Artists
STARSHIP TROOPERS, Denise Richards, 1997, ©TriStar Pictures
THE WORLD IS NOT ENOUGH, Denise Richards, Sophie Marceau, 1999, (c) United Artists
WILD THINGS, Neve Campbell, Denise Richards, 1998
VALENTINE, Jessica Cauffiel, Jessica Capshaw, Denise Richards, Marley Shelton, 2001
DROP DEAD GORGEOUS, Denise Richards, 1999. (c) New Line Cinema.
THE WORLD IS NOT ENOUGH, Sophie Marceau, Pierce Brosnan, Denise Richards, Robert Carlyle, 1999, (c) United Artists
UNDERCOVER BROTHER, Denise Richards, Aunjanue Ellis, Eddie Griffin, 2002 2002 (c) Universal
EDMOND, Denise Richards, 2005. ©First Independent Pictures
WILD THINGS, Neve Campbell, Denise Richards, 1998
WILD THINGS, Toi Svane Stepp, Matt Dillon, Denise Richards, 1998, (c) Columbia
DROP DEAD GORGEOUS, Mindy Sterling, Kirsten Dunst, Denise Richards, 1999. ©New Line Cinema/ .
STARSHIP TROOPERS, Patrick Muldoon, Casper Van Dien, Denise Richards, 1997, © TriStar Pictures /
DROP DEAD GORGEOUS, Denise Richards, 1999, © New Line
WILD THINGS, Kevin Bacon, Denise Richards, Neve Campbell, Matt Dillon, 1998
EMPIRE, Denise Richards, 2002