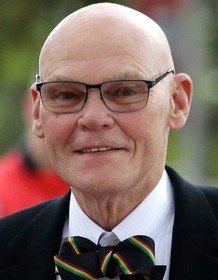 James Carville
Highest Rated: 96% The War Room (1993)
Lowest Rated: 12% All the King's Men (2006)
Birthday: Oct 25, 1944
Birthplace: Carville, Louisiana, USA
A longtime political commentator and consultant, James Carville first came to national attention when he served as campaign manager for Bill Clinton during Clinton's successful first run for the presidency in 1992. Born October 25, 1944, in Carville, La. (the town was named for Carville's paternal grandfather, Louis Arthur Carville), Carville attended college at the University of Louisiana, where he also received his law degree. Following school, Carville served in the U.S. Marine Corps for two years, where he achieved the rank of corporal, and later worked for a Baton Rouge law firm from 1973 to 1979. He turned to politics in the 1980s, overseeing, along with partner Paul Begala, successful gubernatorial campaigns for Robert Casey in Pennsylvania and Zell Miller in Georgia. In 1992, Carville worked as presidential campaign manager for Bill Clinton, then governor of Arkansas, guiding him to a victory against George H.W. Bush, the Republican incumbent. Clinton would go on to serve two terms as president, from 1992 to 2000. Following this, Carville worked on a number of international campaigns for such politicians as Tony Blair in the U.K. and Ehud Barak in Israel. He consulted on various Democratic presidential candidate campaigns during the early 2000s, though he never took on as prominent a role as he'd held on the Clinton campaign. He has written a number of books on political and social topics, and has made numerous appearances on TV and in film, and was married to former Republican (now Libertarian) political consultant Mary Matalin in 1993. The couple had two daughters and eventually settled in New Orleans, where Carville teaches political science at Tulane University.
Photos
WAR ROOM, George Stephanopoulos, James Carville, 1993. (c) October Films
Real Time with Bill Maher, from left: Steve Schmidt, Governor Jennifer Granholm, James Carville, Bill Maher, 'Episode 303', Season 12, Ep. #1, 01/17/2014, ©HBO
The Tonight Show With Jay Leno, James Carville (L), Mary Matalin (C), Jay Leno (R), 'Season', ©NBC
THE PEOPLE VS.LARRY FLYNT, James Carville, 1996, ©Columbia Pictures
Good Morning America, Mary Matalin (L), James Carville (R), 'Season', ©ABC
Good Morning America, George Stephanopoulos (L), Mary Matalin (C), James Carville (R), 'Season', ©ABC
ALL THE KING'S MEN, executive producer James Carville, producer Mike Medavoy, on set, 2006. ©Columbia Pictures
THE ASSASSINATION OF JESSE JAMES BY THE COWARD ROBERT FORD, James Carville (second from right), 2007. ©Warner Bros.
THE WAR ROOM, James Carville, 1993, (c)October Films
WAR ROOM, George Stephanopoulos, James Carville, 1993. (c) October Films
Real Time with Bill Maher, from left: James Carville, S.E. Cupp, Bill Maher, Samuel L. Jackson, 02/21/2003, ©HBO
THE HUNTING OF THE PRESIDENT - REDUX, James Carville, 2016. © Virgil Films & Entertainment
All The President's Men Revisited, James Carville, 04/21/2013, ©DISCOVERY