John Woo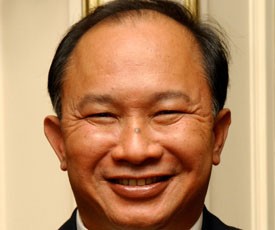 Highest Rated:

100%

Bullet in the Head (Die xue jie tou)(1990)

Lowest Rated:

23%

Bulletproof Monk(2003)

Birthday:
September 23, 1946
Birthplace:
Guangzhou, China
Bio:
The first Asian filmmaker to helm a major Hollywood feature, John Woo initially emerged as the leading light of the Hong Kong action renaissance of the late '80s. Celebrated for his unique, much-imitated style -- a Molotov cocktail of graceful slow-motion sequences, staccato edits, freeze-frames,…
John Woo Trivia
John Woo is a notorious film maker who portrayed his unique style offering Chow Yun Fat as inspector Tequila who was given the brilliant trademark of long gun fights involving slick and stylish stunts and involving someone using two handguns at one time.
Quotes from John Woo's Characters
No quotes approved yet. Logged in RT and Facebook users can submit movie quotes.