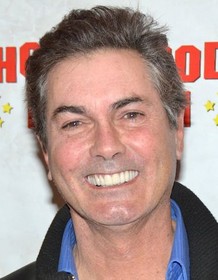 Tyrone Power Jr.
Highest Rated: 76% Cocoon (1985)
Lowest Rated: 65% Shag (1988)
Birthday: Jan 22, 1959
Birthplace: Los Angeles, California, USA
Tyrone Power Jr. was an actor who graced the silver screen many times throughout his Hollywood career. Power began his career with roles in "Cheers" (1982-1993), "Cocoon" (1985) with Don Ameche and the Don Ameche comedy sequel "Cocoon: the Return" (1988). Later, Power acted in "Shag: The Movie" (1989) with Phoebe Cates, "Healer" (1994) and "Last Chance Love" (1997). He also appeared in "California Myth" (1999). More recently, Power acted in "Dreamkiller" (2010).
Skip to Quotes
Filmography
Movies
| | | | Credit | | |
| --- | --- | --- | --- | --- | --- |
| No Score Yet | No Score Yet | The Christmas Colt | Matt (Character) | - | 2013 |
| No Score Yet | 78% | Dreamkiller | Agent Benett (Character) | - | 2010 |
| No Score Yet | No Score Yet | The Beautiful Illusion | Unknown (Character) | - | 2001 |
| No Score Yet | No Score Yet | California Myth | Roberto Klein (Character) | - | 1999 |
| No Score Yet | No Score Yet | Healer | Nickel (Character) | - | 1994 |
| No Score Yet | 0% | Evil Lives | Scott (Character) | - | 1992 |
| No Score Yet | No Score Yet | California Casanova | Peter (Character) | - | 1991 |
| 65% | 88% | Shag | Harley (Character) | $6.1M | 1988 |
| 76% | 60% | Cocoon | Pillsbury (Character) | $75.9M | 1985 |
TV
| | | | Credit | |
| --- | --- | --- | --- | --- |
| 87% | 93% | Cheers | Nash (Guest Star) | 1989 |