Features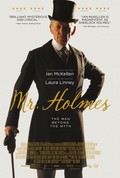 In this week's Total Recall, we count down the best-reviewed work of the Mr. Holmes star.
Jeff Giles
on Wednesday, Jul. 15 2015, 04:04 PM
He's played Gandalf, Magneto, and Richard III -- and this weekend, Sir Ian McKellen adds another household name to the long list of characters he's brought to life. We're talking, of course, about Mr. Holmes, director Bill Condon?s adaptation of the Mitch Cullin novel A Slight Trick of the Mind, in which legendary sleuth Sherlock Holmes putters through retirement while looking back on a case that's dogged him for decades. In anticipation of seeing McKellen as Holmes, we decided to dedicate this week's list to an appreciation of his fine filmography, including all the expected hits as well as a few surprises. It's elementary -- and it's time for Total Recall!