Pariah
(1998)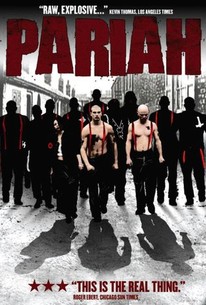 Movie Info
Randolph Kret wrote and directed this subculture drama exploring skinhead gangs. The gang-rape of Sam (Elexa Williams) triggers her suicide. Her boyfriend Steve (Damon Jones) finds the legal system inadequate, so he plots revenge by infiltrating the gang. To gain entrance, however, he must embrace the very attitudes he despises. Once inside, he gains a better understanding of the factors behind the neo-Nazi movement, but eventually he's put on the spot and must choose between committing murder or revealing his cover. The Scott Grusin score includes songs by Minor Threat. Shown at the 1998 Slamdance Film Festival.
Rating:
R (violence, language)
Genre:
,
Directed By:
Written By:
In Theaters:
On DVD:
Runtime:
Studio:
Indican Pictures
Critic Reviews for Pariah
Audience Reviews for Pariah
½
I approached this film thinking it looks like a more realistic portrayal of skinhead culture because of the film's underground status, but really, its just very amaturish, terribly written, and features some of the worst characters i have seen in a independent film. Most of the time skinhead films are very racially driven keeping you interested, but there was nothing edgy about this except a few quick beatdowns. If the point of this was to show how dumb nazi skinheads are by making a bad movie about them, then mission accomplished.
Ian Bracken
The editing was sloppy. The dialog was pretty weak. The acting wasn't great. At times the acting was a little too bad. (After the rape scene where it's suppose to be a tense moment the acting is so bad that you almost laugh, which isn't really the mood you're suppose to have, you know. Only from the guy, though, who comes off as a whinny non-acting bitch. The girl was pretty dead on. Actually, he was surprisingly a much better actor actor this scene... and the whole feel of it increased after this. Maybe they made the first half hour before they had money to really fund the rest and the made he rest of the movie later. Who knows. ) The look of it was shaky at times. That's all the technical stuff. As for the story, it really laked something. It portrayed skinheads as these ruthless rapist killer gang. Which is ok, but there was no real reason why they did what they did. With many of the other skinhead movies it develops a little into the minds of the skinheads and you begin to get why they do what they do. This is just showing white trash hurting people. I hate to be so cliche as to compare this to American History X, but at least in that you knew how Edward Norton became a skinhead. What motives he had. Why he did what he did... "So like have you ever been raped before?" "No, my dad used to touch me, but that's ok, he did tat to all my sisters too" "My dad used to f*ck me" "I guess my dad's not that bad then, I could go back home now" -> WTF??? I love how they trivialize serious shit in this movie. All in all it had the right message if you put hate into the world bad shit comes back to you. I can't help but think, though, if they re-shot a few scenes, dropped a few of the laughs in inappropriate moments, this could have been a great film. However, most of the really emotional scenes were just not done right and were more laughable than cry-able. All in all this was a total "almost" movie.
John Trifiletti
Whoo Wee is this here a stinker for the ages. It's similar if someone was to order a turkey and turd sandwich, and then ask for them to hold the turkey, and could you have more turd in it's place? I rented this because Ebert gave it a positive review, but looking back on it I think he hated Fight Club more than he liked Pariah. Awful dialogue, characters acting without motivation, sometimes in direct opposition in how they would react in anything resembling reality, and the weird sensation that the writer has never actually met anyone in his life. Black people approach women to harass them and then punch them in the face, parties are crashed by skinheads with no attempt to call police, not out of cowardice, but more politeness and the characters act like they're in a high school play. The plot synopsis below is astounding, how anyone could notice subtleties of our lead vigilante noticing or emphasizing with anyone is beyond me. He mopes, yells and stands silently, all very poorly. I had no idea what was going on in any of the characters minds at all. Let me just say this here is a stinkeroo and best avoided.
Christopher Brown
Super Reviewer
Pariah Quotes
There are no approved quotes yet for this movie.