The Brave
(1997)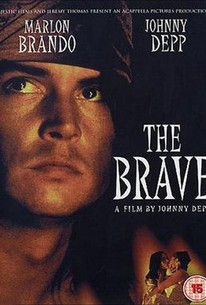 Movie Info
Tired of standing helplessly by while his family struggles with tremendous poverty, a Native American husband and father makes the supreme sacrifice to provide them with a future. Actor Johnny Depp co-wrote, directed and starred in this controversial drama.
Rating:
NR
Genre:
Directed By:
Written By:
Runtime:
Critic Reviews for The Brave
Audience Reviews for The Brave
Bad. Teenage boy fantasy of a 'cool edgy film.' A mix of hyper-Lynchian atmosphere and "Kooky Weirdness (R)" mixed with overly sentimental god-bless bs. Cut the cheesy sex scene, cut the mystical father, cut the drug dealer friend, cut some of the corny music-- y'know, cut like an hour out-- focus on how much of a loser this guy is to his family and his pact with Brando as his redemption... woulda been like 80x better. That said, Brando was definitely the best part of the film. Apparently he improvised the thing too.
Jenna Ipcar
An early film starring and directed by Johnny Depp. It's a rather slow tale about the length someone is prepared to go to give their family a better life. Starring Marlon Brando as well briefly it's an interesting tale but the film is too long. There aren't many scenes that stand out either and it kinda feels like a made for TV film. For Johnny's die hard fans only really.
Johnny Depp's directorial debut never really finds its footing, but I didn't have the same issues with it that most critics seemed to. I've noticed recurring complaints about the film's slow pacing, but I thought that was advantageous to the style Depp was going for. However, it's obvious that the execution of the picture isn't completely successful. It looks like a TV movie, with rigidly staged scenes that don't always transition well. However, there are some things I really like about the film. For one thing, the story is excellent and the conclusion has an impact, despite all the problems preceding it. This is one of Depp's finest achievements as an actor. He crafts a nuanced, empathetic protagonist who is always engaging to watch. Brando's brief appearance is brilliantly played. His acting was unpredictable and vibrant in a way that nobody else's is, and his dialogue with Depp is exciting to watch. The other players deliver performances ranging from good to terrible, which contributes to the movie's inconsistency overall.
The Brave Quotes
There are no approved quotes yet for this movie.
Discussion Forum
Discuss The Brave on our Movie forum!