Tribute
(2001)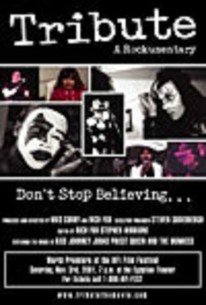 AUDIENCE SCORE
Critic Consensus: No consensus yet.
Movie Info
An often-meanspirited documentary about four tribute bands covering the music of Judas Priest, KISS, the Monkees and Queen. Included: their fans; professional goals; personnel changes; and band discord. Produced and directed by Rich Fox and Kris Curry.
Rating:
NR
Genre:
, ,
Directed By:
In Theaters:
Runtime:
Critic Reviews for Tribute
Audience Reviews for Tribute
What a [i]wonderful[/i] little film! [i]Tribute[/i] is a documentary that follows the ups and downs of several "tribute bands" - a band that dresses up as, and only plays music from, one particular band. The bands covered in this film include Sheer Heart Attack (Queen), Larger Than Life (KISS), and Missing Links (The Monkees), as well as Tim 'Ripper' Owens, the lead singer of a Judas Priest cover band that actually ended up singing for the [i]real[/i] band for a few years. (FYI: The 2001 film [i]Rock Star[/i] starring Mark Wahlberg and Jennifer Aniston is [i]very loosely [/i]based on Owen's story). The film is fascinating on [i]so many[/i] levels. First, there are the bands themselves. The film shows all the personality conflicts, career issues and other troubles that [i]any[/i] band goes through. For tribute bands it's no different. One member of the Missing Links is [i]all about[/i] the music; he spends lots of camera time railing against "other" tribute bands that just have the costumes and the "look" of their target band. Sounds good, right? After all, this is all about the [i]music[/i], right? Well, then the film shows the Missing Links practicing, and we see that same band member blowing up at other members for missing cues or playing just a tiny but "off". Rather than do what he does for fun or for the love of the music, we see the band member as obsessed just for obsession's sake, as if he's trapped in a time warp and it's still 1968. It's sad, but it's just one aspect of one person in one band. But for tribute bands, there is the additional pressure of having to have the perfect [i]look[/i] as well as sound - a slavish devotion to authenticity that leads one member of Larger Than Life to superglue a wig to his head to hold it in place... just to be perfect. If the obsession and devotion shown by these bands reminds you of [i]Star Wars[/i] and [i]Star Trek[/i] fans... well, you'd be right. And the thing is, you'd expect something like perfection from a Broadway musical or Vegas spectacle, but these people are doing it on a showstring. Rather than play to packed auditoriums, these folks play to half-filled clubs. It's sad to see Larger Than Life work [i]all day long[/i] at a club setting up their stage (complete with the KISS logo in lights for a backdrop), only to see the club later on filled to less than half its capacity. But it's not as sad as it might seem at first glance. These concerts are like Sci-Fi conventions for music fans. And one fan in partcicular - a Queen fan known only in the "tribute circuit" as "Superfan" - gets a few minutes of screen time too. He's a genuinely [i]scary[/i] guy; Lord knows that I've been obsessed with bands in my day, but this guy takes it to a whole new level. He's not a collector - his apartment isn't covered in pictures of Freddie Mercury or anything - but he does seem to view the world through Queen-colored glasses. And at least when I was obsessed with bands they were still [i]together[/i] and [i]current[/i]. There's something troubling about someone so obsessed with a dead band. I've known a few Beatles nuts in my time, but at least they knew of newer bands and knew that there were other bands in the world besides the Fab Four. I'm not sure if this guy has listened to anything [i]other[/i] than Queen since he was in middle school, and that's scary. Although you might not think so from this review, I thoroughly enjoyed this film and had a great time watching it. BTW, on a technical level, this film is just fine. Filmed with the same high-end portable video camera that most shoestring productions are these days, it's shot, paced, and edited quite nicely. About the only technical flaw in the film is some bad sound during some of the live music scenes, but that's due to the fact that the director chose to film within the crowd rather than jack in to the mixing board. Which is cool with me. [i]Tribute[/i] is on Showtime this month (March 2006).
Jim Cofer
Tribute Quotes
There are no approved quotes yet for this movie.