Gonggongui Jeog (Public Enemy) (Public's Enemy)
(2002)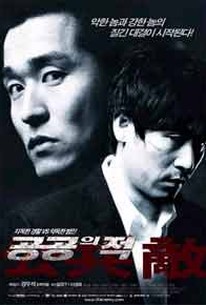 AUDIENCE SCORE
Critic Consensus: No consensus yet.
Movie Info
Detective Kang Chul-Choong (Sol Kyung-gu) is a tough, hotheaded cop. He is also as corrupt as they come. He never makes an arrest because he'd sooner take a bribe. But when an internal affairs investigation threatens, Kang's older and more circumspect partner, Song Haeng-gi (Kim Ju-bong), commits suicide, leaving Kang slightly unhinged. Cho Gyu-hwan (Seung-jae Lee of Attack the Gas Station!) is a wealthy fund manager and family man who also has a problem controlling his temper. Cho gets angry when his elderly father calls in a loan in order to help a struggling orphanage. Cho has the money invested in a can't-miss stock, and will lose millions if he pays his father back, so one rainy night, while Kang is nearby on a stakeout, Cho brutally murders his parents. While making his escape, wearing a hooded raincoat, Cho has his first encounter with Kang. He literally bumps into him on the street, and when Kang upbraids him for it, Cho, not realizing Kang is a cop, slashes Kang's face. When Kang hears about the vicious double murder, he realizes that he was attacked by the killer, and joins the investigation. Suddenly, police work isn't about the money any more for Kang. Kang didn't get a good look at Cho that night. But after questioning the vain, supercilious young man, Kang immediately suspects him. Cho uses his powerful connections in the police department to thwart Kang's efforts, but Kang is determined to deliver his own unique brand of justice, no matter what the cost. Gongongeui Jeok (Public Enemy) was directed by Kang Woo-Suk and was shown at the 2002 New York Korean Film Festival. ~ Josh Ralske, Rovi
Critic Reviews for Gonggongui Jeog (Public Enemy) (Public's Enemy)
All Critics (4) | Fresh (3) | Rotten (1)
Despite its amusing outrageousness and well-choreographed mayhem, the film never transcends the genre the way Dirty Harry did.
Even in its darkest corners, the movie maintains its sense of fun, crashing us from idea to idea with a wink in its eye and a smirk on its face.
Audience Reviews for Gonggongui Jeog (Public Enemy) (Public's Enemy)
½
This was made before Korean films were a popular export and is therefore very much aimed at Korean audiences - hence the odd tone. Still good though.
Marcus Woolcott
Super Reviewer
½
Dark humoured Korean thriller which may not be highly original plot-wise but it's unpredictable and has its own quirks that make it seem fresh and memorable. It's quite brutal and violent at times and there's a host of wacky characters that keep things entertaining during its overly long 2 hour 20 minute duration. It's a very decent offering from Korea that's recommended for fans of dark thrillers.
½
Public Enemy, a film directed by Woo-Suk Kang, is nothing more than a traditional crime drama out of Korea.
The story is straightforward. There is a ruthless cop on the hunt for a serial killer. The first hour is all character buildup and, in my opinion, it is just too long. This contributes to the long run time of 2 hours and 15 minutes. Sure, it is nice to build up the characters, however it is a bit much in this film. The actual plot that I mentioned earlier doesn't begin until nearly 60 minutes in. Too long of a wait.
The film does have its moments though. There are times that will make people laugh and this is a good thing, considering the length of this picture. The violence, while not a ton of it, is quite bloody and brutal. Combine the violence with the very strong language and there is no question about an R-rating.
Kyung-gu Sol puts on a good performance as the corrupt cop. His attitude and actions make him an unlikeable hero for most of the movie and it is these same actions that spark the laughs, not the jokes. Sung-jae Lee is an appropriate villain and the two play off of each other brilliantly.
Public Enemy is actually a decent crime thriller that just takes a bit long to get going. Still, fans of this type of film will find this satisfying.
Gonggongui Jeog (Public Enemy) (Public's Enemy) Quotes
There are no approved quotes yet for this movie.