Waiting for Happiness (Heremakono)
(2003)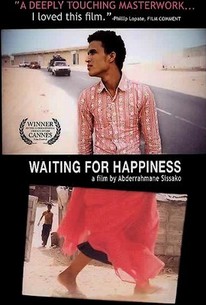 Movie Info
In a lonely seaside village that functions mainly as a transit point, themes of belonging, departure, immobility, rootlessness, tradition and transientness are explored. The feeling of serenity of the villagers home keep at bay their overall isolation and solitude.
Critic Reviews for Waiting for Happiness (Heremakono)
Audience Reviews for Waiting for Happiness (Heremakono)
½
This African film is boring by design, as it reflects a community trapped by borders both physical and psychological. Like the characters, it lacks a clear goal or much kineticism, but it is nonetheless a well-made depiction of human beings in stasis.
Sam Barnett
Super Reviewer
½
Heremakono (Abderrahmane Sissako, 2002) I really, really wanted to like this movieâ"there are a few things about it that really shine, but it never quite comes together; the stories Sissako is attempting to weave together never actually weave, leaving the viewer with far too many loose threads to gather at the end, with no loom on which to make them into a tapestry. The main story concerns Abdallah (Goodbye Gary's Mohamed Mahmoud), a French-educated seventeen-year-old who returns to his home village of Nouadhibou, on the Mauritanian coast, to visit his mother. (Note: there are two cities in Africa named Heremakono; neither of them is in Mauritania [one is in Mali, the other Guinea].) It's a tale of culture shock; Abdallah's modern ways, mode of dress, inability to speak the dialect of the town, etc. are all ridiculed, subtly or not, by the townsfolk. The main subplot concerns Maata (Maata Ould Mohamed Abeid), the town's electrician, and his sometime apprentice Khatra (Khatra Ould Abder Kader). (The main attempt to weave the film together come from Abdallah's encounters, and tentative friendship with, the much younger Khatra, but there's not enough of this in the film to make it the basis of... well, anything, really.) It's the bits with Khatra and Maata where this movie is at its best; the finest sequence in the film comes about two-thirds of the way through, an almost dreamlike sequence where Maata, trailing a huge extension cord, wanders around the desert with a single illuminated light bulb. It's a sequence that wouldn't be out of place in an Apichatpong Weerasethakul movie, and like the rest of this film, it's beautifully shot. And the story being told there is a classic; Khatra begins the movie as something of a slacker; he's drawn to Abdallah mostly because Abdallah, thanks to the culture shock, mostly hangs around in his mother's hut not doing anything, but as the film progresses, Khatra finds himself needing to shoulder more of Maata's burdens, coming of age. That's good stuff indeed. If only it had been the main focus of the film. * Â 1/2
Robert Beveridge
An interesting movie that centralizes on a small village where certain individuals are dealing with various emotions: loneliness, unhappiness, and the need to belong. A college student returns home, and feels like an outcast. A mother hopes that her only son will want to settle, and feel comfortable at home. A young boy seeks to learn the trade of his mentor. An individual missing the companionship of an old friend who left years before. Cast- Mohamed Mahmoud Ould Mohamed, Khatra Ould Abdel Kader, Maata Ould Mohamed Abeid, and Nana Diakité. Worthy!
Waiting for Happiness (Heremakono) Quotes
There are no approved quotes yet for this movie.
Discussion Forum
Discuss Waiting for Happiness (Heremakono) on our Movie forum!