Il Fantasma di Sodoma (Sodoma's Ghost) (The Ghosts of Sodom)
(1988)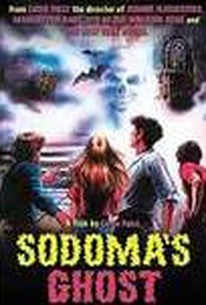 AUDIENCE SCORE
Critic Consensus: No consensus yet.
Movie Info
Horror icon Lucio Fulci directed this slow-moving entry in the "haunted brothel" subgenre. Two couples visit the site of a creepy Nazi brothel which was bombed by the Allies in 1943, only to be seduced and menaced by the ghosts residing there. Copious nudity and a game cast can't save this one from well-deserved obscurity. ~ Robert Firsching, Rovi
Rating:
NR
Genre:
,
Directed By:
On DVD:
Runtime:
Audience Reviews for Il Fantasma di Sodoma (Sodoma's Ghost) (The Ghosts of Sodom)
½
What was Fulci thinking? 'Let's mess with horror fans by getting them to watch this'? Don't let this movie fool you! It's terrible.
When Lucio Fulci wanted to poke fun at himself for being a bit of a perv in his semi-autobiographical "Cat in the Brain," he edited in parts of the opening sequence of this movie. That opening sequence is a drunken, drug-filled orgy involving Nazis and prostitutes. Aside from that opening and a later one in which a character plays Russian roulette with the ghost of one of the Nazis, "Sodoma's Ghost" largely feels like Fulci was phoning it in. Six American college students are on their way to Paris and get lost. They arrive at an old farmhouse that, unbeknownst to them, was the scene of the aforementioned Nazi orgy almost 50 years before. The Nazis and their hookers got bombed and now haunt the place. The students soon find themselves trapped as the ghosts turn them against one another using sex and visions in mirrors. For Fulci, this is a pretty by-the-book haunted house movie otherwise. It gets an extra star from me because of the Russian roulette scene (which is genuinely intense) and prolific toplessness throughout. On the other hand, the violence and gore factors are among the lowest in any of Fulci's horror films, and Italian horror in general; arguably, none of the college students actually die, although one does decompose in dramatic fashion for awhile. The ghosts are pretty conventional; they look just like regular people, albeit in Nazi uniforms. The ending is fairly creative but not particularly exciting, and the denouement useless but quick. Not Fulci's best work; fans may be disappointed by this departure from form. Still, enough flashes of his particular genius come through to make it worth watching once. And there is that Russian roulette scene...
Brian Seitzman
When a group of teens stumble upon a old house that just so happens to be haunted by the ghosts of some german world war II soldiers you can kinda figure anything that can go wrong will as they get trapped inside and the ghost put a violent and seductive spell over the teens that are now just hopeing to get out alive. Being a fan of fulci's movies i have to say this was one of the most boring ones i think he has ever made no gore or real blood to speak of and just a plot and story that left me wondering when it was over watch at your own risk
Discussion Forum
Discuss Il Fantasma di Sodoma (Sodoma's Ghost) (The Ghosts of Sodom) on our Movie forum!