Ping Pong
(2002)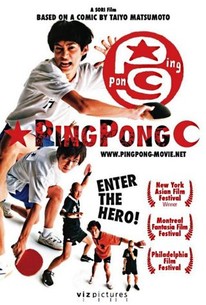 Movie Info
The debut feature film from Sori is a tale of adolescent angst and stylish table tennis sequences. Ping Pong's main character, Tsukimoto (Arata), is an overly sensitive young man who refuses to actually defeat his opponents at the game table because he does not want them to feel bad. His buddy Peco (Yosuke Kubozuka) is a brashly confident and flamboyant player, who meets his match in Kong (Sam Lee). After suffering injuries and temptations, both enter the same major tournament only to realize that they may end up facing off against each other in the finals.
Critic Reviews for Ping Pong
Audience Reviews for Ping Pong
Ostensibly a sports film, but it isn't really. Based on the manga series of the same name, it's about high school championship ping pong, but instead of the classic underdog beats the world plot, we have a quiet boy with talent but no motivation for winning and his arrogant friend who he lets beat him. So our introverted hero finds his strength (cue Rocky soundtrack) and after many trials and tribulations, finishes with a head-to-head match and wins the championship and a standing ovation, hooray? Nope, nothiing like that. Guess you might have to see it.
Ping Pong Quotes
There are no approved quotes yet for this movie.