The Breaking Point
(1950)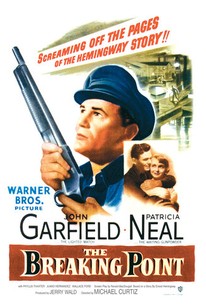 AUDIENCE SCORE
Critic Consensus: No consensus yet.
The Breaking Point Videos
The Breaking Point Photos
Movie Info
In this taut adaptation of Hemingway's To Have and Have Not a financially struggling charter-boat captain finds himself in deep and turbulent water when he is forced to get involved with smugglers after a dishonest millionaire cheats him out of pay during a fishing excursion to Mexico; the louse also leaves his seductive girl friend, a hooker, stranded on the boat. The desperate captain agrees to illegally smuggle Chinese refugees into the US, but during the voyage, he is again double-crossed and must force his hapless passengers to jump ship when the Coast Guard suddenly appears. They take his boat away from him. Deeply depressed, he has sex with the abandoned woman and then goes home. Meanwhile, the crooked lawyer who talked him into smuggling the refugees, gets the captain's boat back and then blackmails him into taking a gang of crooks to Catalina Island. During the 26-mile voyage things come to a head when one of the crooks kills the skipper's first mate. Suddenly the captain snaps and he finally gets his revenge.
Audience Reviews for The Breaking Point
John Garfield plays Harry Morgan, a man who's just trying to do right, or at least the best he can, to take care of his family. It's a struggle. And things don't go well, despite his best efforts and good intentions. The way his marriage and relationship with his wife (Phyllis Thaxter) are portrayed and the struggle to keep a tenuous finger-hold on aspirations to a securely lower-middle-class existence ensure that we never forget what the real stakes are as he negotiates his way through criminals his dealings with and with eager femme fatale Patricia Neal. Standout scenes are Phyllis Thaxter and Patricia Neal talking past the uncomprehending John Garfield in a bar and the heart-wrenching (and effectively underplayed) shots of his first mate's son as the movie closes.
Michael Harbour
All I got left to petal is guts. A financially strapped boat captain reluctantly takes a job to Mexico to smuggle some immigrants and transport a mob boss' lady friend. Ultimately, the money falls apart so the captain doesn't execute his mission. When he arrives back to America, he has a beautiful woman by his side, no immigrants, and the police are waiting...something doesn't add up. His boat is confiscated, he's still broke, and his family life is set off kilter. Can the captain put his life back together again or will he be stuck in this life of crime? "I don't think I'll like you." "A lot of people don't." Michael Curtiz, director of White Christmas, Mildred Pierce, Captain Blood, The Adventures of Robin Hood, Yankee Doodle Dandee, Four Daughters, We're No Angels, and Kid Galahad, delivers The Breaking Point. The storyline for this picture is interesting and I really liked the main character; unfortunately, this wasn't as compelling as similar pictures like Key Largo. The acting is very good and the cast includes John Garfield, Patricia Neal, Phyllis Thaxter, and Sherry Jackson. "Thank you for the money, anyhow." "Forget it." "I'll try." I DVR'd this picture during a recent Michael Curtiz marathon on Turner Classic Movies (TCM). I found the film compelling and fairly well paced. There could have been more drama and conviction in some scenes; but overall, this is an entertaining film with solid subplots. I do recommend seeing this film at least once. "I'm on the hook." Grade: B
Kevin Robbins
½
Superior performances in this rough well made film. In his second to last film, a much truer version of Hemingway's To Have and Have Not than the Bogie/Bacall film, Garfield is nothing short of brilliant making his early death and the loss of his talent all the clearer. Patricia Neal has one of her best if not the best role of her early Hollywood career and she's great as the been around wise girl who has a yen for Garfield. She and Phyllis Thaxter, also very fine, provide an interesting contrast as women who are miles apart but also similar in many ways. The fact that the two actresses share a resemblance helps make the point even clearer. Worth seeking out.
The Breaking Point Quotes
There are no approved quotes yet for this movie.
Discussion Forum
Discuss The Breaking Point on our Movie forum!