The Burglar
(1957)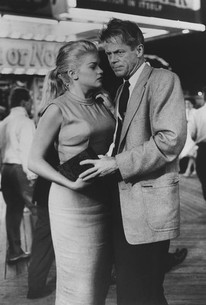 AUDIENCE SCORE
Critic Consensus: No consensus yet.
Movie Info
Professional burglar Nat Harbin (Dan Duryea) and his two associates, Baylock (Peter Capell) and Dohmer (Mickey Shaughnessy), set their sights on wealthy spiritualist Sister Sarah (Phoebe Mackay), who has inherited a fortune -- including a renowned emerald necklace -- from a Philadelphia financier. Using Nat's female ward, Gladden (Jayne Mansfield), to pose as an admirer and case the mansion where the woman lives, they set up what looks like a perfect break-in; even when Nat's car is spotted by a couple of cops, he bluffs his way through, gets the necklace, and makes the getaway. But the trio -- plus Gladden -- can't agree on how to dispose of the necklace, and soon their bickering becomes a lot less important than the fact that someone is on to what they've done -- a woman (Martha Vickers) is working on Nat, while a man (Stewart Bradley) is working on Gladden. Equally serious, the trio kills a New Jersey state trooper while on their way to warn her. And among the cops chasing them is one with larceny in his heart and murder on his mind.
Critic Reviews for The Burglar
Audience Reviews for The Burglar
The typical heist gone wrong set-up is a helluva lot of fun with a young Jayne Mansfield and a buncha desperate characters after an emerald necklace, building to a nice climax in a funhouse. Recommended.
Bill Bryant
½
An underrated and overlooked gem, The Burglar is a very stylized film for a B movie. Wendkos uses striking camera angles and far-out set pieces to frame what is essentially a psychological story about family loyalty. good noir from the second noir cycle
Greg Wood
½
Jayne Mansfield plays a feature role in 1957's "The Burglar." The film has an interesting premise, but I thought the plot dragged at a few points. Let's just say It definitely has its share of slow moments. Not my favorite Mansfield film, but not a bad one either.
Sarah Marie
Discussion Forum
Discuss The Burglar on our Movie forum!