This Girl's Life
(2004)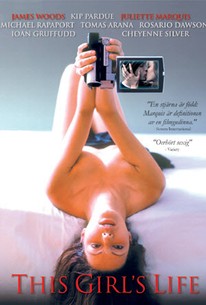 Movie Info
A slice-of-life view of modern morality filtered through the eyes of a young and down-to-earth porn star, writer/director Ash's character-driven drama offers a unique perspective of the adult film industry. Moon (Juliette Marquis) is one of the most popular adult film stars around, and she finds no fault in using her sexuality as a means of profit. As she continues the process of renewing her contract, Moon's personal life remains a delicate issue due to her father's (James Woods) degeneration due to Parkinson's disease and a blind date (Kip Pardue) who remains hesitant to get close to Moon after learning of her profession. Although she makes a healthy living and sees nothing in particular wrong with her profession, Moon must ultimately reevaluate her life in order to understand what is best for both her and the people she cares most about.
Critic Reviews for This Girl's Life
Audience Reviews for This Girl's Life
Between a 5/10 and 6/10, he doesn't have much story to tell, and he knows it, but damn if he isn't going to go down without a fight.
Lee Mayo
What is the purpose of this movie? As a porn star's slice of life, it is much too boring and slow moving to be effective. As titillation, it fails miserably. There is some nudity and sex, but not enough to arouse. As an endorsement or indictment of the porn industry, it doesn't make a strong enough case for either for me to even know. The acting is on the poor side, even for Woods and Dawson. I don't say this often, but this is pretty much a complete waste of film.
Don Schick
At first, "This Girl's Life" struck me as a cold and pretentious drama, and it turned me off right from the start. But then, I started to get involved in the story, mostly because of the very likable and charismatic performance of newcomer Juliette Marquis. The entire house of cards that is this movie is placed squarely on her untested shoulders, and while I can't quite recommend this, she's the only reason I warmed up to this at all. She's completely stunning with a body to match that she isn't at all shy about showing off, but she's also a natural in front of the camera. She puts a lot of her won natural charm into this underdeveloped character and makes her worth watching. Unfortunately, everything else in the picture is forgettable and phony. I felt sorry for James Woods who seems to have fallen from grace here playing Marquis' Parkinson's affected father. I thought it was a pretty embarrassing performance, despite the fact that the film consulted an expert in the field of the disease and it's endorsed by the Michael J. Fox foundation. In my book, Woods still comes off as phony. Several other performances also left a bad taste in my mouth, such as Michael Rapaport as a sleazy car dealer, and Ioan Gruffudd as a potential adulterer. The writer/director goes by the name Ash (did I mention I first found the film to be pretentious?) seems to be going more for shock value than any real filmmaking talent. "This Girl's Life" isn't nearly shocking enough for that strategy to be successful. It's a mixed bag with a strong central character.
Timothy Sanders
This Girl's Life Quotes
There are no approved quotes yet for this movie.
Discussion Forum
Discuss This Girl's Life on our Movie forum!