The Adventures of Mark Twain
(1985)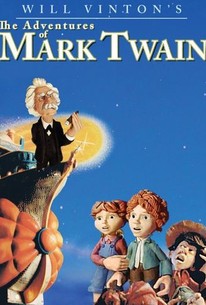 The Adventures of Mark Twain Photos
Movie Info
Will Vinton, the stop-motion animation whiz who brought us The California Raisins, is the principal creative force behind The Adventures of Mark Twain. A clay-model Twain, voiced by James Whitmore, sets out in a hot-air balloon to find Halley's Comet. Joining the waspish humorist on his journey are some of his favorite creations, including Tom Sawyer, Becky Thatcher and Huckleberry Finn. As the balloon ascends further into the sky, we are treated to animated dramatization of such Twain classics as "The Celebrated Jumping Frog of Calaveras County." Though brilliantly conceived and executed, Adventures of Mark Twain might have been even more effective had it been shortened by ten minutes or so.
News & Interviews for The Adventures of Mark Twain
Critic Reviews for The Adventures of Mark Twain
Audience Reviews for The Adventures of Mark Twain
An underrated gem in the Stop-Motion world. Its a shame that almost nobody knows about this film nowadays, just because of how poorly it did with the critics at the time and it did poorly at the box office, but I say this movie deserves more recognition in the film world. Stop-motion is one of my favorite forms of film, and this stop-motion is no exception, in fact, for a very low budget film, the stop-motion is some of the best I've seen before. Also the acting is not too bad either, Charles Whitmore gives probably his best performance ever as Mark Twain in this film, the way he narrates the stories he tells to the kids, and how heacts in the film, give tribute to how good at acting he is. Though there is one scene in this movie that just leaves me scratching my head on why it is even in the film, because it seems to have no purpose, its the scene where the kids go into a room that says the Mysterious Stranger, and a man with no head that talks through a shape shifting mask says he is the devil, and he does some very disturbing things when they talk to him. But overall this is a fantastically animated Stop-motion film and a very well acted one at that, that is well worth seeing.
Michael Edwards
Super Reviewer
½
The clay animation is really amazing in this neat fantasy of Mark Twain and his characters of Huck Finn and Tom Sawyer. Pretty awesome.
Donna Dawson
Super Reviewer
½
Great claymation effects, but I just didn't understand much of the story, which has Mark Twain taking some boys on a stellar journey through his legendary tales. I suppose it serves as a suitable introduction to Twain literature for youth, but I was only mildly intrigued by the premise.
Lafe Fredbjornson
Super Reviewer
The Adventures of Mark Twain Quotes
There are no approved quotes yet for this movie.