Deep Blue
(2005)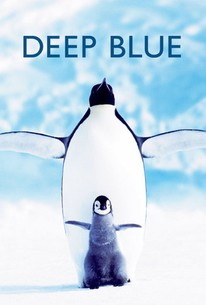 Movie Info
This comprehensive presentation of images from the world's oceans, gathered over years of filming, plunges the audience into the spectacle of the seas. Viewers embark on a journey from the shallowest coral reefs to the barren shores of the Antarctic and from the vast stretches of the open ocean to the nocturnal landscapes of the ocean's deepest chasms.
Cast

Critic Reviews for Deep Blue
Audience Reviews for Deep Blue
This seems to be a visually suped up David Attenborough documentary. I want these incredible moving images on my computer as a screen saver. You won't learn much. the narration is stripped down. In the Attenborough Doc this was based on they said the blue whale pop is down to 3% of 300,000. In this one they say down to 1% of 300,000. ..Hmmm.
oblio blivion
This is one of the greatest documentaries I've ever had the favor to experience. Incredible in visuals. Holds the presentation of many peculliar underwater species and shows parts of the lives of various wild animals. This is one of those classic pieces you need to watch in surround on a widescreen.
Jim Powell
½
This is one of those films you could have in the background all day every day. Gorgeous stuff.
Angela Alcorn
Super Reviewer
Deep Blue Quotes
There are no approved quotes yet for this movie.
Discussion Forum
Discuss Deep Blue on our Movie forum!