Americano
(2005)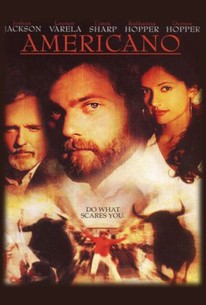 Movie Info
A recent college graduate is forced to choose between a life of limitless wealth and complacent security or a potentially dangerous trip down the road less traveled in first-time director Kevin Noland's tale of love and youth told against the backdrop of the Running of the Bulls. Chris McKinley (Joshua Jackson) has decided to celebrate his college graduation by backpacking through Europe with his best friend, Ryan (Timm Sharp), and Ryan's girlfriend, Michelle (Ruthanna Hopper). With time running short before he returns to the United States and sets out on the fast track to success, Chris attempts to pack as much adventure as possible into his last three days until he locks glances with dark-haired Spanish beauty Adela (Leonor Varela). Now challenged to re-examine his priorities by both the vital young woman and a mysterious stranger named Riccardo (Dennis Hopper), Chris must search the whole of his heart and soul to find out what he really wants most out of life.
Critic Reviews for Americano
Audience Reviews for Americano
½
Movie was a masterpiece , except for the bullfight which was grewsome. but thats their culture. I was honestly impressed with how this turned out. everyone should watch , I was hoping for a glimpse of ruthanna's breasts though
Adam Utz
½
If I were to use two words to describe Americano they would be liberating & vibrant. Liberating in the sense that the overall point of the film is about letting go & letting love in, a true spirit of adventure. Vibrant in part for the colorful Spanish landscape, the mysteriously profound Riccardo, the beautifully exotic Adela & the way Chris, the film's lead, interacts with them.
Jake Patrick
Holy hell this was bad. Two mildly redeeming values. 1: Boobs. Brief, but hey, there. 2: Midgets. that is all. The rest is a thin veil of nice scenery covering up vomitous mass of crapola.
Andrew Olivier
Americano Quotes
There are no approved quotes yet for this movie.
Discussion Forum
Discuss Americano on our Movie forum!