The Conscientious Objector
(2004)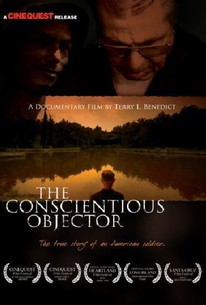 AUDIENCE SCORE
Critic Consensus: No consensus yet.
Movie Info
Ridiculed on the battlefield for rigidly adhering to his religious beliefs while positioned in the 77th Infantry Division during World War II, a most unlikely candidate for the Medal of Honor finally receives his due as filmmaker Terry L. Benedict profiles the soldier who became a hero in the face of intolerance. Desmond T. Doss is a devout member of the Seventh Adventist Church. Unlike a large number of soldiers who choose to put their personal beliefs aside at a time of war, Doss chose to remain true to his religious beliefs when summoned to serve his country and refused to take up arms against his enemies. Instead, Doss chose to save lives instead of taking them by becoming a medic. The decision didn't go down easily with his fellow soldiers, who made no attempts to mask their resentment of the man who rigidly honored the Sabbath by spending Saturdays in prayer. But in his isolation Doss found strength, ultimately saving countless lives on the battlefield (including the lives of soldiers who had previously ridiculed and scorned him). Deep behind enemy lines, the best friend to have is sometimes the man without a weapon.
Critic Reviews for The Conscientious Objector
All Critics (3) | Top Critics (1) | Fresh (3) | Rotten (0)
Illustrates how truth can often outdo fiction.
August 25, 2004

A proficient piece of work with a hugely pertinent message.
May 28, 2004 | Rating: 3.5/5
Audience Reviews for The Conscientious Objector
"The Conscientious Objector" is an inspiring documentary about Desmond Doss who was given a Congressional Medal of Honor for his heroic actions during the horrific Battle of Okinawa in 1945. What's especially exceptional in his case is that Desmond, taking the Ten Commandments to heart, vowed never to kill another human being. That did not stop him from wanting to serve in the military during World War II, even refusing a deferment for working in the shipyards at Norfolk.(I'm wondering how much truth there is to the statement about some draftees committing suicide because they were refused due to health reasons.) As a Seventh Day Adventist, he strictly observed the Sabbath in the army while declaring his intention to serve as a medic. He still did not want to carry a gun like other medics, even though the Japanese soldiers were ordered to shoot medics to destroy morale.(Desmond's preferred term for himself is "conscientious cooperator," by the way.) Despite harassment from other soldiers(With no small irony, the documentary points out these were the same soldiers whose lives he would later go on to save.) and almost being kicked out on a Section 8, he persevered to serve his country with pride and extreme courage, as recounted by him and some of his fellow soldiers on an emotional journey of remembrance.
½
Hero-worship is all too common, and this film sadly overindulges to the point of making an otherwise worthy subject instead a 2-Dimensional poster-boy for politically-correct heroism. However praiseworthy Desmond Doss's story, convictions, and actions may have been, the documentary does little to explore any emotion other than diamond-in-the-rough praise, with a requisite prelude of ingratitude and hardship. In the end, little is explored beyond a simple narrative that reads a bit too much like a propaganda film or comic-book reimagining (indeed, the film-maker cites his boyhood facination with a comic-book about Doss.) Doss himself is a bit too vague to provide much insight beyond that of a strange form of directors-commentary... and we are left with a sadly isolated view of an otherwise remarkable story, unable to connect any strings or make any inferences other than a big, blaring neon light leading down a path to hero-worship with as much substance as a Hollywood script-writer could manufacture in a weekend. Truly, the substance must have been there... but its direction and cinematic narrative structure have far too many stars in their eyes to unearth more than a few heartstrings to tug at.
Daniel Hetteix
Super Reviewer
The Conscientious Objector Quotes
There are no approved quotes yet for this movie.