Dead End
(2003)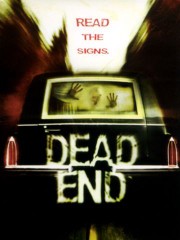 Tickets & Showtimes
Dead End Trailers & Photos
Movie Info
A family making their annual Christmas pilgrimage to Grandmother's house finds their journey taking an ominous turn when they attempt to take an unfamiliar shortcut in this low-key chiller from first-time director Jean-Baptiste Andrea. For 20 years, Frank Harrington (Ray Wise) has driven the same, mind-numbingly familiar route to the annual holiday gathering, but the discovery of an unfamiliar shortcut simply proves too enticing for the loving but strained father to resist. As the road grows increasingly dark, the eerie sight of a young woman carrying a small infant sets into motion a horrific series of roadside deaths that finds the family's numbers quickly dwindling. Though there are no other travelers on the long and dark stretch of road, the appearance of a menacing black hearse seems somehow connected to the spectral woman and her child. Could it be that a vengeful entity was the previous victim of a roadside accident, returning to torment any trespasser who happens to wander down her silent stretch of road, or could the answer to the horrific mystery lie deep within the conscience of one of the few remaining family-members?
more
Cast
News & Interviews for Dead End
Critic Reviews for Dead End
Audience Reviews for Dead End
Melvin White
Super Reviewer
½
Ray Wise = "I'm in!"
This is another one that felt like a made for TV film, some good suspense but could have benefited from more scares and on screen kills.
Though as a Lynch fan I couldn't help but chuckle when "Frank's" (Ray Wise) son finds a cellphone with an ear attached and hearing "Frank" calling into the night for "Laura!!!" (his wife this time around) brought back some great memories as well.
Not horrible...a little campy a few scares a teeny bit of blood, but nothing real schocking.
½
Feels like I've been here before, or sometimes maybe never was....
Well, this little film drags you in different directions other than a depicted family's that seem to drive in the same direction over and over for reasons unknown yet all so clear to a certain fate. No one is devoid of this, but when it's laid out in a fashion of what could've been or what may be, all bets are off.
In this one, a family is on their way to a Christmastime celebration with more family on a route that begs to differ with a sense of reason or clarity. The pent-up feeling of frustration and fear of being lost combines with other horrific events making this truly a holiday season this family will never forget; or never remember for that matter.
Dead End Quotes
Laura: Look, I made a drawing of Brad. This was his leg that was hanging out.
Frank: I know this is the season of giving, but I just don't give a fuck!
Frank: Maybe the North Star doesn't indicate north. Maybe the map maker was drunk. Maybe the moon's made out of cheese. Who knows? Everything is so fucked up on this goddamn road!
Frank: Richard, drag his body off to the side of the road.
Richard: Jesus, what do I look like? Your fu*king janitor?
Discussion Forum
Discuss Dead End on our Movie forum!
News & Features