The Adventures of Tom Sawyer
(1938)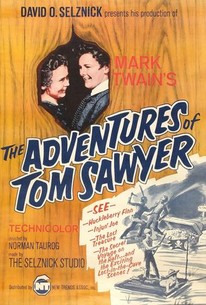 AUDIENCE SCORE
Critic Consensus: No consensus yet.
The Adventures of Tom Sawyer Photos
Movie Info
In a small town on the Mississippi River, the troubles of young Tom Sawyer (Kelly) are often due to his half-brother Sid (Holt) informing on him. When his Aunt Polly (Robson), with whom Tom lives, orders the boy to whitewash the fence, he manages to convince his friends that it's a privilege rather than a chore, and they take over for him. He's smitten by newcomer Becky Thatcher (Gillis), but she spurns him when he lies about knowing passages from the Bible. However, when Tom takes the blame for something she did, she sees him with new eyes. Tom and his rapscallion friend Huckleberry Finn (Moran) go to the graveyard one night, and see Injun Joe (Jory) stab a man to death, then convince drunken Muff Potter (Brennan) that he committed the murder instead. The frightened boys flee, and vow never to mention what they saw. When both Tom and Huck get into more trouble, they head for an island to play pirates, accompanied by their friend Joe Harper (Rentschler). when they realize the townspeople think they've drowned, they decide to watch their own funeral service, but soon come out of hiding. Later, at Muff Potter's murder trial, Tom decides to testify; Injun Joe flings a knife at him, and escapes. On a school picnic in a cavern, Tom and Becky are separated from the others, and find a treasure chest full of gold--but they also find Injun Joe, hiding in the cave. He tries to kill them, but falls to his death. Back in town, Tom and Becky are greeted as heroes.
Rating:
NR
Genre:
, ,
Directed By:
Written By:
In Theaters:
On DVD:
Runtime:
Studio:
United Artists
Audience Reviews for The Adventures of Tom Sawyer
I'm currently reading a book on David O Selznick, and this was one of his productions, and it was free on youtube so i checked it out, plus i dont think id ever seen a full tom sawyer film, it's kinda crazy the racist things they got away with here, especially with the black boy, and naming a character injun joe, but kelly is really good as tom sawyer despite never acting before, but becky is kind of a useless twat, robson is real good as aunt polly, i never read the book and was never a huge fan of twain, but i guess it did an all right job
Daniel Sloyan
A little too much slapstick, but still pretty faithful to the book and pretty funny. Injun Joe isn't as scary now that I'm grown up. In fact he's almost laughably phony.
Gregory Bevier
ONE OF THE BEST, IF NOT THE BEST VERSION OF THE CLASSIC MARK TWAIN STORY. THE CAST IS WONDERFUL, TOMMY KELLY IS A GREAT HUCK. MAY ROBSON SHINES AS AUNT POLLY AND WALTER BRENNAN IS EXCELLENT AS ALWAYS. VERY MEMORABLE PICTURE.
James Higgins
The Adventures of Tom Sawyer Quotes
There are no approved quotes yet for this movie.