The Power
(1968)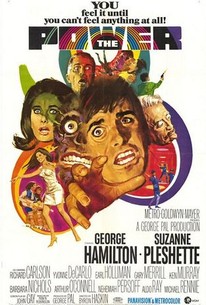 AUDIENCE SCORE
Critic Consensus: No consensus yet.
Movie Info
The subjects of space-program experiments in human endurance begin to die in increasingly improbable ways in this sci-fi thriller. A sharp detective soon realizes the culprit is a telekinetic, and must be one of the scientists on the research team -- only problem is, he doesn't know which one.
Rating:
NR
Genre:
, ,
Directed By:
Written By:
In Theaters:
Runtime:
Studio:
WARNER BROTHERS PICTURES
Audience Reviews for The Power
½
Gather round, children, and let me tell you a story. You know George Hamilton, the tan guy who hosted the already-forgotten reality show "The Family" and occasionally appears as himself on commercials? Well, once upon a time, Hamilton was a real-life actor. It's true--most decent video stores will still stock copies of his most memorable films, "Love at First Bite" and "Zorro the Gay Blade." By 1968, when he starred in "The Power," Hamilton had been in over a dozen films as, get this, characters that were not George Hamilton. He had an odd, quirky, Anthony Perkins-like charm, and even his skin had yet to get the leathery yellow glow it's now permanently been mutilated into. And "The Power" is a pretty damn good movie, one that easily ranks as Hamilton's most watchable. He plays the head of a research team studying the effects of pain on the human body for the space program. During a meeting with his team and government agent Michael Rennie, one of his fellow scientists exclaims that there's a high-level telepath in their midst--one that seems to have jumped several hundred generations down the evolutionary trail. When that scientist turns up dead later that night, it becomes a hunt to ferret out the brainy fellow (or lady, as Suzanne Pleshette plays one of the team and Hamilton's love interest) with the title object. Not content at being a simple whodunnit, the film adds on a fair share of psychedelic illusion sequences (along with some psychobabble) and director Byron Haskin ("War of the Worlds") gives the film a burst of color, similar to the Flint movies of the era. Don't, however, mistake this for a lighthearted romp--despite the dayglo look, everyone in the film is so paranoid that the sweaty, gloomy tone of a twisting mystery comes through. In many ways, "The Power" plays as an interesting predecessor to 1983's "Scanners," with the ability to stop a heart in lieu of the later film's head-popping effects. Also, like "Scanners," the characters aren't the most engaging or sympathetic--Pleshette is given little to do, and much of the supporting cast (including Earl Holliman, Aldo Ray and "Tormented!"'s Tom Stewart himself Richard Carlson) have little more than motions of the plot to go through. The exception is a bit by Yvonne DeCarlo as the first scientist's widow, an alcoholic whose memories are being corrupted by the unknown villain. Her role, albeit brief, is highly effective, especially considering how DeCarlo's career at the time had gone from being a well-regared femme fatale to an "ugly" character actress due to the success of "The Munsters." There's something deeply moving about her performance, and it makes you wish she'd gotten jucier roles in her post-Lily Munster years. In all, "The Power" is an engaging thriller that doesn't dissappoint, even if it ends up being a little bit more ambitious than the budget (or studio) could really handle. While never released on video, this turns up once in a while on TCM.
Paul Freitag
The Power Quotes
There are no approved quotes yet for this movie.