Swimming Upstream
(2005)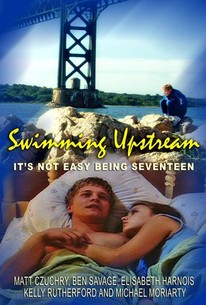 AUDIENCE SCORE
Critic Consensus: No consensus yet.
Movie Info
Coming-of-age tale of a promising Rhode Island teen (Matt Czuchry) coping with a personal tragedy and the difficulties of living with an alcoholic father (Michael Moriarty) and the memory of his late mother. Written and directed by Robert J. Emery. Based on Don Robertson's novel, "The Greatest Thing That Almost Happened."
Rating:
PG-13 (for mature thematic material and a scene of sensuality)
Genre:
Directed By:
Written By:
Runtime:
Studio:
Upstream Productions Pty. Ltd.
Watch it now
Cast
Critic Reviews for Swimming Upstream
All Critics (1) | Fresh (0) | Rotten (1)
Management of tone is everything in tales this sentimental, and Swimming Upstream is ploddingly obvious and mawkish -- all desultory domestic scenes and bad monologues.

Audience Reviews for Swimming Upstream
Oh the things you will sit and watch when you can't sleep. ... Swimming Upstream is the coming of age tale of a 17 year old boy from Rhode Island. Star of the soccer team, Dead mother, alcoholic father, can't get his girlfriend to deflower him, and then he finds out he has Leukemia. Don't worry, it's gets all " After School Special " for a second, and then he pulls through. I like to watch B rate movies. Sometimes the B can stand for Brilliant or Bright, or the Best thing you have seen in awhile. Unfortunately for this waste of film, the B seemed to stand for Boring and just plain BAD. We all remember Ben Savage from Boy Meets World. He was sort of cute in that show, and he is sort of charming in this film. That is the half of a star. The rest of the cast, seriously needs to reconsider if acting is what they are best suited for. Michael Moriarty, who is usually a decent actor, bored me to tears as Morris Sr. He was so monotone and flat, that I thought I was back in Algebra II with that horrid teacher who liked to put kids to sleep, rather than teach. Yuck. I think half of the people on Flixster must be high. Some of the reviews on this page actually said that this was a good and sad movie. On what planet?! Oh and the page is completely wrong. Surprise, surprise. This movie was released in 2002, not to be confused with the movie from 2003, that has the exact same title, Swimming Upstream, about the Australian swimmer Tony Fingleton. THAT movie starred Geoffry Rush, David Hoflin, Deborah Kennedy, and Brittany Brynes. The only correct actor on this movies Flixster page was Ben Savage. He should be up there with Matt Czuchry, Michael Moriarty, and Kelly Rutheford. Seriously people, pull your heads out of your asses, before you try to wax intellectual on things. Not that is really matters, THIS Swimming Upstream is still a huge failure.
Jami Lyn
Discussion Forum
Discuss Swimming Upstream on our Movie forum!
News & Features