Christmas Holiday
(1944)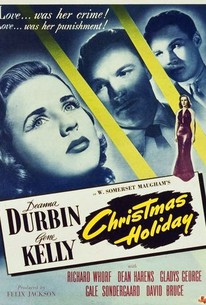 Movie Info
Don't be fooled by the title. Christmas Holiday is a far, far cry from It's a Wonderful Life. Told in flashback, the story begins as Jackie (Deanna Durbin), marries Southern aristocrat Robert Monette (Gene Kelly). Unfortunately, Robert has inherited his family's streak of violence and instability and soon drags Jackie into a life of misery. When her husband commits murder, Jackie is compelled by Robert's equally degenerate mother (Gale Sondergaard) to cover up the crime. When Robert is arrested, Jackie, tormented by the love she still holds for her husband, runs away from the family home, changing her name and securing work as a singer in a New Orleans dive. Robert escapes from prison and makes his way to Jackie's dressing room. Holding a reporter hostage, he threatens to kill both Jackie and the waylaid sailor who has been listening to her story. An astonishing change of pace from Deanna Durbin's usual lightweight musical fare, Christmas Holiday (based, believe it or not, on a story by W. Somerset Maugham) is one of the bleakest film noirs of the 1940s. Durbin is merely adequate in her role, but Gene Kelly gives a disturbingly convincing portrayal as a man virtually devoured by his inner demons. Robert Siodmak directs with his usual flair, using a taut, suspenseful screenplay by Herman J. Mankiewicz.
Critic Reviews for Christmas Holiday
Audience Reviews for Christmas Holiday
Interesting casting, solid performances that almost elevate the thin script. Departures for both Deanna Durbin and Gene Kelly, I wish Durbin had gotten more roles like this (or at least had been cast in some of Kelly's later musicals). Has a sort of strange framing device, it kind of messes with the pacing. Christmas Holiday is also surprising in that it was directed by Herman Mankiewicz, known probably most famously as the writer of Citizen Kane. This appears to have been his one chance at directing. I doubt he would have ever had the level of success as his brother, but it would have been interesting to see what he could have come up with in the future as a writer/director.
Matt Heiser
This film really is not that interesting but it was my introduction to Deanna Durbin and my first time seeing Gene Kelly playing an actual villain. If you're looking for Christmas cheer it is not here but Siodmak did succeed in directing another dark noir. I cannot wait to watch some lighter Deanna Durbin fare for the first time in the near future.
Four Star Film Fan
most depressing christmas movie ever tho it's kinda fun watching gene kelly play a killer
Stella Dallas
Super Reviewer
Christmas Holiday Quotes
There are no approved quotes yet for this movie.
Discussion Forum
Discuss Christmas Holiday on our Movie forum!