Christmas Holiday
(1944)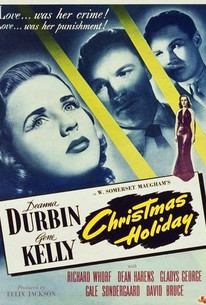 Movie Info
Don't be fooled by the title. Christmas Holiday is a far, far cry from It's a Wonderful Life. Told in flashback, the story begins as Jackie (Deanna Durbin), marries Southern aristocrat Robert Monette (Gene Kelly). Unfortunately, Robert has inherited his family's streak of violence and instability and soon drags Jackie into a life of misery. When her husband commits murder, Jackie is compelled by Robert's equally degenerate mother (Gale Sondergaard) to cover up the crime. When Robert is arrested, Jackie, tormented by the love she still holds for her husband, runs away from the family home, changing her name and securing work as a singer in a New Orleans dive. Robert escapes from prison and makes his way to Jackie's dressing room. Holding a reporter hostage, he threatens to kill both Jackie and the waylaid sailor who has been listening to her story. An astonishing change of pace from Deanna Durbin's usual lightweight musical fare, Christmas Holiday (based, believe it or not, on a story by W. Somerset Maugham) is one of the bleakest film noirs of the 1940s. Durbin is merely adequate in her role, but Gene Kelly gives a disturbingly convincing portrayal as a man virtually devoured by his inner demons. Robert Siodmak directs with his usual flair, using a taut, suspenseful screenplay by Herman J. Mankiewicz.
Critic Reviews for Christmas Holiday
Audience Reviews for Christmas Holiday
most depressing christmas movie ever tho it's kinda fun watching gene kelly play a killer
Stella Dallas
Super Reviewer
½
Deanna tries something different and does very well by it. This tough little noir was a film that she had insisted on doing to try and break away from the Mary Sunshine roles that were her stock in trade. It's lack of success at the box office kept Universal from letting her tackle different roles for the rest of her career and contributed to her retirement a few years after this, although she hated the movie business so even if it had been a smash she probably would have still called it quits. Her performance is strong as the "dance hall hostess/singer" who the film manages in roundabout ways to make clear is a prostitute. One of the film's strengths is while of course they find a way to have Deanna sing her songbird is not singled out as special. Sure she sings much better than most roadside canaries but the patrons hardly break from what they're doing while she performs and her style is subdued almost beaten down, especially during Spring Will be a Little Late This Year. Her version of Always is achingly beautiful though full of hopelessness and despair. The picture is also fortunate to have two outstanding character actresses among the cast, Gale Sondergaard reserved and conflicted as the no account Kelly's mother and the great and underappreciated Gladys George in her typical role of the been around goodhearted but tough owner of the joint where Deanna has landed. Where the film is weakest is in the male cast members. Richard Whorf is good as the huckster for the road house who pulls Dean Harens into Deanna's sphere where he learns her sad tale but Harens while not bad doesn't really make much of an impression on screen. He is just a catalyst for the actual story to kick in so his blandness doesn't hurt the picture. That only leaves Gene Kelly who again while not bad is the wrong actor for the part. His glib facileness suits the lout he's playing but there is no underlying menace to his personality that would have punched the innate danger of the character across, John Garfield would have been ideal and taken the film from being good, which it is, to extraordinary which it just misses. Still well worth seeking out.
Christmas Holiday Quotes
There are no approved quotes yet for this movie.