Smile
(2005)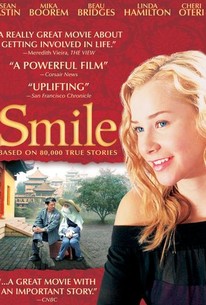 Movie Info
Two girls born at the same time on different sides of the world are brought together by an act of mercy in this drama. Katie (Mika Boorem) is a high-school student who has grown up in a wealthy suburb of Los Angeles. While Katie has never had to want for material things, she feels a certain dissatisfaction in her life, and between dealing with her combative parents (Beau Bridges and Linda Hamilton), her sexually aggressive boyfriend (Erik von Detten), and a mysterious boy who has caught her eye (Jonathan Trent), Katie is ready for a change in her life. One of Katie's teachers, Mr. Matthews (Sean Astin) persuades Katie to investigate Doctor's Gift, an international medical outreach program, as a rewarding volunteer opportunity that would look good on her college admission forms. Katie end up traveling to China with the Doctor's Gift team, where she discovers a world far different than the one she has known. Katie encounters Lin (Yi Ding), a girl who was born the same day she was but has led a very different life; facially disfigured, Lin was abandoned by her parents as an infant, and when she was taken in by Daniel (Luoyong Wang), it caused a rift that ended his marriage. The Doctor's Gift organization has offered to provide plastic surgery for Lin through their affiliated program Project Smile, but after previous surgery failed to correct her defects, Lin isn't so sure she wants to risk another disappointment. Writer and director Jeff Kramer based Smile on his daughter's experiences as a volunteer with Doctor's Gift, and the producers have pledged to donate a portion of the film's profits to the organization
Audience Reviews for Smile
This film has two stories going on at the same time until they overlap. A poor Chinese father adopts a little girl with a cleft palate and a whiny, selfish, annoying teenage girl from Malibu struggles with her boyfriend pressuring her to have sex. Curious about Operation Smile and how she can help, she takes a trip to China as a volunteer with a medical team who help give operations to those in financial need. It's a very uplifting movie with a great cast. It really makes me wonder if the actor who plays Lin really had a cleft palette and then they gave her an operation or if they put one heck of a really great make-up job on her.
Dannielle Albert
Super Reviewer
½
The film parallels two stories: an impoverished Chinese father who sacrifices his wife and son to raise a facially-deformed orphan named Ling (Yi Ding) as his very own, and a Malibu self-absorbed teenager (Mika Boorem as Katie) who seemingly has it all including the arguing parents (Beau Bridges and Linda Hamilton) and a boyfriend (Erik von Detten) pushing her to have sex. She goes to China with a volunteer medical program, (Operation Smile, which provides reconstructive surgery to needy children and young adults in developing countries and the United States) and comes face to face with the realities of the big bad world. This is one of those movies that make you sit and wonder. Wonder about the difficulties that some underprivileged people face. The hardships they go through and in this movie it is interesting to see how Katie transforms into someone whose mission it is to help someone else. The character of the Chinese father (Wang Luoyong) is one that especially impressed me as it is very touching to watch a father sacrifice everything for the love of an adopted child especially one with a physical deformity. It's uplifting, and it's in a good cause, which I'm assuming is what attracted the names in the cast including Sean Astin as her teacher and Cheri Oteri as the too-enthusiastic nurse from Utah.
½
This started out as a completely teen movie. Took forever to get to the point of the story, which was the children in Asia who are born disfigured and American Doctors travel there each year to perform corrective surgery. We have the average teen of today who travels with class mates to help with project, she is totally blown away by the children as they check into the hospital. But she has a special interest in one girl born on the same day as her. Turns into a tear jerker, I can only give it 3 stars as it took forever to get beyond our young teen in California.
Bruce Bruce
Super Reviewer
Smile Quotes
There are no approved quotes yet for this movie.