Miles from Home
(2006)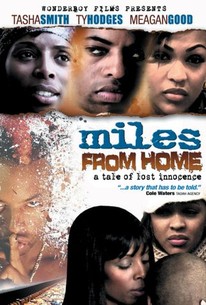 Movie Info
Actor Ty Hodges made his debut behind the camera with this gritty drama about a young man struggling to lift himself from a life on the streets. Abandoned by his father, and saddled with a drug-addicted mother, Miles (Hodges) looks for acceptance elsewhere and falls into the world of prostitution. Fortunately, he soon meets a well-adjusted young woman who gives him hope for the future. Miles from Home also stars Meagan Good and Stacey Meadows Jr.
Critic Reviews for Miles from Home
Audience Reviews for Miles from Home
Very well produced gritty film that highlights the life of a street kid forced into an adult life by his mothers addiction Graphic language, sexual tones. Not for childen, yet I think it would make a great film if the language and the sexua innuendos were not there. This movie is really a film on faith in God but it will turn a Christians earsand eyes away if the language can't be ignored. If this film would have been Rated PG it would have been 12Stars (There arent that many :) I loved it, he language was bad though for me. I almost changed my mid about watching but I am glad I didnt!! A Mudt see. It is in RED BOX
Carla Flournoy
Miles from Home Quotes
There are no approved quotes yet for this movie.
Discussion Forum
Discuss Miles from Home on our Movie forum!