Drive
(2002)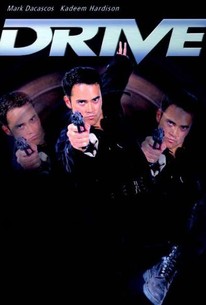 AUDIENCE SCORE
Critic Consensus: No consensus yet.
Movie Info
While fleeing the wrath of San Francisco's Chinese mob, a fighter takes a dread-lock-wearing writer hostage and races towards the safety of L.A. Along the way, the two must fight their way through a gauntlet of crafty gang members, each one hell-bent on destroying the two.
Critic Reviews for Drive
All Critics (1) | Top Critics (1) | Fresh (1) | Rotten (0) | DVD (1)
If you haven't entered the eccentric comic world of the filmmaker known as Sabu (nee Hiroyuki Tanaka), Drive is an excellent starting point, even if it seems it could have been a little stronger.
Audience Reviews for Drive
½
If Tarantino ever made a film in Japan, this would be it. Hiroyuki Tanaka (AKA Sabu) is known to be a great director in Japan and he showed me why with this film.
I don't really know how to explain the story, but if you see the plot synopsis "A salaryman is hijacked by bank robbers," that is just the tip of the iceberg. Similarly to Tarantino's Pulp Fiction or Kill Bill: Volume 2, without the jumping around, the story unfolds itself as the movie goes on. Characters come and go, as the main character gets stuck traveling with these bank robbers. I have to say that this is not an action film as some may come to believe, but it is rather a slow-paced adventure movie. Director Sabu uses some great cinematography and well-written dialogue to keep you from getting bored, also similar to Tarantino. What keeps this film from being really great is the fact that there are some weird segments that can be somewhat of a challenge to follow. It isn't so bad though, especially if you've seen a film called Pistol Opera.
The acting is pretty good and some characters put on some partially memorable performances. I was happy to see an appearance by Kou Shibasaki, but that is pretty much all it was. I would have liked to have seen more of her.
This may not be an action packed driving movie, but this film may actually surprise some people, like me. Tarantino fans may want to give it a try, but I can't guarantee that they will enjoy it, since it is not exactly similar. Still, I don't think they will regret seeing this.
Drive Quotes
There are no approved quotes yet for this movie.