Marathon
(2005)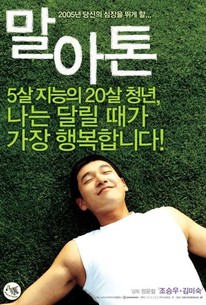 AUDIENCE SCORE
Critic Consensus: No consensus yet.
Movie Info
An autistic boy develops a love of long-distance running in writer/director Jeong Yun-cheol's feature debut, the surprise blockbuster hit South Korean drama Marathon. Cho Seung-woo (of The Classic and Chunhyang) plays Cho-won, an autistic teen who seems to find a sense of calm when he's running. His doting mother (Kim Mi-suk) recognizes his enthusiasm, and hires a coach for him. Yun Jung-won (Baek Seong-hyeon) is a lazy, alcoholic, broken-down former accomplished marathon runner who teaches gym at Cho-won's special school as part of his community service for unnamed crimes. He's initially reluctant to coach the boy, but Cho-won's mother is insistent, even going so far as to clean Yun's squalid apartment with her son to convince him. Yun doesn't take much of an interest in his coaching duties, preferring to sleep on a nearby bench while the boy runs, occasionally getting up to pilfer Cho-won's snacks. Eventually, the two form an unexpected bond, and Yun begins to teach Cho-won something, but Cho-won's mother can't deal with Yun's bad manners, and fires him. Facing criticism of her mothering skills from all sides, from Yun to her absent husband to her resentful younger son, she begins to question her motives for pushing Cho-won to run. With his first major race coming up, Cho-won's mother begins to feel that Cho-won only runs because he thinks it pleases her. Marathon, based on actual events, had its international premiere at Subway Cinema's New York Asian Film Festival in 2005. ~ Josh Ralske, Rovi
Critic Reviews for Marathon
Audience Reviews for Marathon
Based-on-a-true-story drama about autistic South Korean boy running his first marathon, aided by drunken coach and possibly-too-pushy mother. A little bit cheesy (Korean cheesy, not American cheesy) but with it's heart in the right place.
Marathon Quotes
There are no approved quotes yet for this movie.