Backstage
(2006)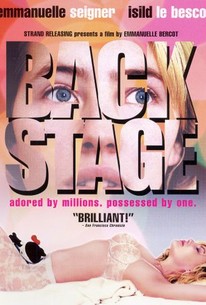 Movie Info
Celebrity obsession leads a French teen to track down her favorite singer following a disastrous staged television encounter between the pair in the feature debut from director Emmanuelle Bercot. The music of pop superstar Lauren (Emmanuelle Seigner) has a profound effect on the quiet life of teen admirer Lucie (Isild Le Besco), but when Lauren suddenly appears on Lucie's doorstep as part of a promotional campaign, the starstruck teen is left reeling when her idol serenades her with a love song in front of millions of viewers. Determined to have a genuine encounter with her idol sans the media circus, Lucie subsequently sets out to locate Lauren and hoodwinks the singer's tough-as-nails production assistant (Noemie Lvovsky) into allowing her into the mixed-up megastar's luxury suite. After the pair bonds over Lauren's latest breakup, the singer agrees to take her fan in as a low-level errand girl. Now, as the disillusioned teen begins to see past the glamorous facade to discover that fame has little bearing over emotional instability, she gradually begins to realize that the celebrity world is much different than she ever imagined.
News & Interviews for Backstage
Critic Reviews for Backstage
Audience Reviews for Backstage
[font=Century Gothic]"Backstage" starts with Lucie(Isild Le Besco), a teenager who lives with her mother(Edith Le Merdy) and younger brother, being ambushed at home by a reality television program which has arranged to have her favorite singer, Lauren(Emmanuelle Seigner), serenade her. Lucie flips out, and not in a good way, barricading herself in her room, therefore sabotaging the program. While there, Lucie and Lauren have a brief exchange which causes Lucie to bolt to Paris to chase after her idol. Persistent, she tracks down Lauren to her hotel suite where her personal assistant, Juliette(Noemie Lvovsky), assists in opening a door or two...[/font] [font=Century Gothic]"Backstage" is a deeply unsettling and riveting psychodrama that is anchored by two great performances from its leads, complementing each other perfectly. It starts out with the viciously ugly spectacle of reality television(At first, I thought the ambush was a police raid. Was this intentional?) before moving on to an incisive examination of fame and celebrity. Before the film starts, Lucie was probably just a normal teenager who like others of her age felt that Lauren was singing only to her.(Although most young music fans are probably polytheistic, not monotheistic.) Her meeting with Lauren reinforces this belief, thus unleashing a force that takes her out of her ordinary world and places her in Lauren's. And the singer who was once thrilled to perform for her fans, is now a shadow of her former self, trapped in a hotel suite, and relying on prescription medication to get her through the day which puts a great strain on her symbiotic relationship with her entourage. [/font]
Backstage Quotes
There are no approved quotes yet for this movie.