The Magician
(2010)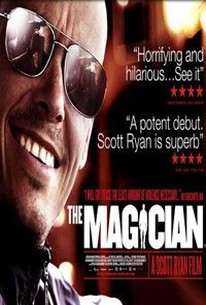 Movie Info
'When Melbourne hit-man Ray Shoesmith discovers that his next-door neighbor is a film student, he commissions him to document his life. The footage is to be released in the event of his early death. The focus is not on the violence, but on the conversation, the banalities and intensities of human interaction and obsessive interest in detail. We see what makes Ray tick, even as we witness his brutal efficiency. This darkly comic tale is fictional narrative, shot like a documentary. Its main character is a likeable killer, whose strangely moral illustrations take a jab at everything from the legalization of drugs to the prevalence of gays in Hollywood. --© Regent
Critic Reviews for The Magician
Audience Reviews for The Magician
A well-acted, somewhat clever, and sometimes funny found-footage look at the life of a hitman, this Australian film ultimately felt a bit lacking to me. I understand that it focuses upon the stories of its characters instead of the violence, but I still felt that it just dragged from beginning to end. I just was never interested enough in the characters or found it funny enough to really like it. Perhaps I was just expecting something else...
Al Miller
Man, I have no idea if this movie is fiction or not... had me on the edge of my seat & biting my nails. Damn crazy. ;)
Sebastian Meeser
Genuinly funny film with some really sharp moments. Brilliant view into the mind of a 'hitman'. Well worth a watch.
Barry Lappin
Super Reviewer
The Magician Quotes
There are no approved quotes yet for this movie.
Discussion Forum
Discuss The Magician on our Movie forum!