Aurore
(2005)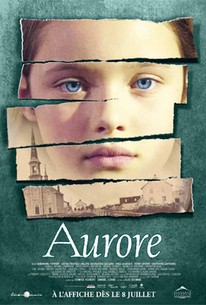 AUDIENCE SCORE
Critic Consensus: No consensus yet.
Movie Info
Taken from the actual events in the 1920s, the film deals with a young girl's death as a result of her father's and step-mother's negligence.
Audience Reviews for Aurore
½
I don't understand the appeal of this. All it is is a kid being tortured, and it's pretty grotesque. This is why American's don't respect Canadian films.
Dillon Lupky
Super Reviewer
½
Aurore is a film about Aurore Gagnon, a girl who lived in Quebec in the early 1900's. Aurore suffered excessive child abuse by her cruel stepmother. I was born in Quebec, and I've heard many stories about this girl. The film is brilliantly acted by each cast member. The film is a sad, depressing drama film and it makes you ask certain questions. The actress who played Aurore is phenomenal, and she definitely delivered a unique and heartbreaking performance as the lead role. The film is brilliant, and is hard to watch. However it is one of those films that should be seen because of its important subject matter and the subject is child abuse. Watching Aurore was hard, and it definitely opened my eyes. Though the film is slightly fictionalized, most of the events portrayed in the film are true. A sad, depressing film, but a necessary film too. The film is well directed and has a strong story to tell, and in the end, that's what's important. I found this hard to watch, but I somehow couldn't turn away. The case of Aurore Gagnon is one of the most famous and infamous cases in Quebec and Canadian history. The film is a powerful film that asks important questions. A solid and unforgettable film. This is one of those films that you won't easily forget, if you get a chance to see it. A hard film to watch, but a good film as well. A well crafted film that brings to light this infamous case in Quebec history.
½
"Aurore" was incredibly difficult to get through. It's based on a true story of horrific abuse that a girl suffers at the hands of her father and stepmother. It takes place in 1920's Quebec. It is beautifully shot but I'd be hard-pressed to recommend this to anyone because of how difficult it is to watch. The only reason I kept watching was my intense hope that justice would somehow be served. This case of abuse is said to be a turning point in the way cases were handled (as many who had knowledge of the abuse turned away, believing it was not their business) and prosecuted. It would be a tidy way of summing up this film and getting a sense of closure but it is difficult to feel any sense of good coming out of bad. Filmed in Quebec by Quebecois director Luc Dionne.
Laura Cameron
Super Reviewer
Aurore Quotes
There are no approved quotes yet for this movie.