Illusion
(2006)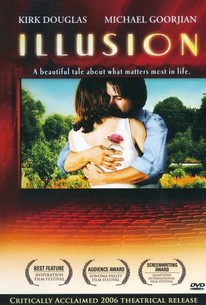 Movie Info
Director Michael A. Goorjian's Illusion tells the tale of a dying film director who, after leading a lavish life of fame and fortune, finds out too little too late what it truly means to live and be loved. Mr. Baines (Kirk Douglas) is a Hollywood icon who has agreed to grant one final interview before drifting into that good night. As Mr. Baines drifts wearily in and out of consciousness throughout the course of the interview, his long deceased editor returns to join him in going back over the footage of his life. While Mr. Baines never married, he did father an illegitimate son named Christopher (Goorjian) whom he abandoned as a child and never returned to. Now, on the screen before him, Mr. Baines watches mournfully as the tragic life of his long lost son plays out to its devastating conclusion. Upon viewing the heartbreaking footage Mr. Baines begins to realize that it was his own cowardice that ultimately fed his son's crippling sense of worthlessness and cemented the boy's grim fate. Despite Christopher's lifelong love of his childhood sweetheart Isabelle, an endless series of fateful mishaps constantly seemed to prevent the boy from finding true happiness with the ethereal beauty. As the film of Christopher's life careens towards tragedy time and again, the dying director implores his faithful editor to allow him the final cut that will save the picture. After living a lifetime of missed opportunities, the man who thought he had it all will now attempt to summon the dying might for one last opportunity to let his son know what it truly means to love, and be loved in return.
Rating:
PG-13 (for some violence)
Genre:
Directed By:
Written By:
In Theaters:
On DVD:
Runtime:
Critic Reviews for Illusion
Audience Reviews for Illusion
This movie blew my mind. It shows that the old lions of Hollywood still can show the young pups about acting. The director of this movie has such a fearless vision and there were times when I winced because of it. That's a good thing for me as movies nowadays hold very few suprises for me.
John Roach
I love this movie! It is one of my all time favorites. I love it becasue the script is awsome. It's tight and deep and addresses the thoughts of anyone who did not have a relationship sith a parent.
Toni Cyan-Brock
Illusion Quotes
There are no approved quotes yet for this movie.
Discussion Forum
Discuss Illusion on our Movie forum!