Mortuary
(2005)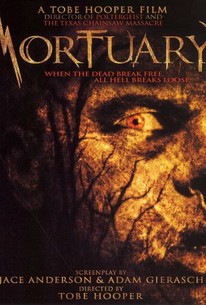 AUDIENCE SCORE
Critic Consensus: No consensus yet.
Movie Info
The Doyle family moves to rural California to start a new life; perhaps a strange choice because their new life takes on the form of running the long abandoned Fowler Brothers Funeral Home. The locals fear the place, and there are whispers around town that the land the home lies on is haunted. The Doyle family will soon discover that something lurks beneath the soil -- something that raises rotten corpses from their long forgotten graves and feeds on death itself.
Critic Reviews for Mortuary
All Critics (3) | Fresh (0) | Rotten (3) | DVD (3)
There's little doubt that Mortuary strikes all the wrong notes right from the get-go...
Nothing but the usual schlocky scares featured in low-rent zombie pics.
Traz um susto ou outro, mas, de modo geral, a avalanche de clichês, a direção burocrática de Hooper, as péssimas atuações e os ridículos efeitos visuais acabam tornando-se excessivamente irritantes.
Audience Reviews for Mortuary
Mortuary is one of those films were a once great horror director has clearly lost his touch. Tobe Hooper, known for The Texas Chainsaw Massacre, Salem's Lot, Poltergeist and other horror classics, directs this abomination. A film so awful that it has made me lose total faith in the director. This film had potential in being such a great film. Instead it ends up being an awful train wreck of a film that is one of the worst horror films in the genre. The whole picture looks cheaply made with poor effects. This film had a very good idea, but unfortunately due to a very poor script, it never takes off the ground. This was a painful film to watch. I think the saddest thing about this film is knowing that Tobe Hooper was once great, but like so many other horror talents, he clearly has lost his touch, and now makes unsatisfying horror films that are simply poorly constructed, and end up being unwatchable and not interesting. This is a film definitely not worth your time, and though it has an interesting story, don't be fooled as this film lacks anything effective to make the film really engaging and ultimately thrilling.Tobe Hooper has sunk to a new low with this one. This is simply one of the worst films in the once great director's career. I doubt he'll be able to direct anything consistent now. If you love Tobe Hooper, watch only his classic films. Mortuary is simply a poorly constructed film that doesn't deliver anything great for the viewer. As a whole, this is an awful film, one that should be avoided.
Mortuary was alot of Fun and I thought this will be following with a sequel. Luckily it didnt.
More sad than scary, and left too much unexplained.
vieras esine
Super Reviewer
Mortuary Quotes
There are no approved quotes yet for this movie.