Play
(2005)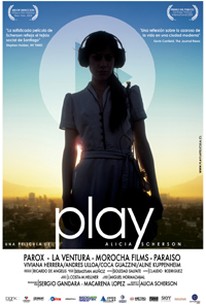 AUDIENCE SCORE
Critic Consensus: No consensus yet.
Movie Info
As Chilean writer-director Alicia Scherson's debut feature, the psychodrama Play explores the ramifications of an infatuation that threatens to erupt into full-blown obsession. It unfolds in Santiago, Chile, where Cristina (Viviana Herrera), a young Mapuche who hails from the country's southern regions, works as a caregiver for a Hungarian émigré. After Tristan (Andres Ulloa), a well-to-do architect recently abandoned by his wife Irene (Aline Küppenheim), is accosted and robbed near the Hungarian's residence, Cristina happens to find his briefcase the following morning (in a metal bin) and eagerly tears it open, sifting through its contents. Though relatively banal, the ingredients - an iPod, identification cards, a notebook, the wife's vest - fascinate Cristina, who becomes fixated on probing and prying into Tristan's life. She first breaks into the couple's home, then tracks Tristan all over Santiago. Finally, Cristina's obsession reaches a new level when she swipes Irene's clothes and makeup and wears them herself, then ignites a torrid affair with the couple's gardener, Manuel (Juan Pablo Quezada). ~ Nathan Southern, Rovi
Rating:
NR
Genre:
, ,
Directed By:
Written By:
In Theaters:
Runtime:
Audience Reviews for Play
½
SCREENED AT THE 2006 SAN FRANCISCO INTERNATIONAL FILM FESTIVAL: Written by directed by first-time feature filmmaker Alicia Scherson, [i]Play[/i] explores the intersection of cultures, ideas, and people in modern-day Santiago, Chile. Borrowing conventions from European art cinema (e.g., deliberate pacing, ennui-driven characters stumbling through minor and major crises in their personal lives, loosely structured storylines), Scherson comes close to crafting a captivating, original film, stumbling late in the film, as Scherson relies on cumbersome plot devices to push the narrative forward, ultimately offering an unsatisfying denouement to her characters and, by extension, [i]Play[/i]. Cristina (Viviana Herrera), the caretaker for Don Milos (Francisco Copello), an elderly Hungarian nearing death, finds little to connect to in Santiago. Cristina's identity is bound up in her past. As a Mapuche Indian from the rural South, she lacks the education, sophistication, and skin color to casually enter Santiago's middle class. She spends her off time at the local arcade, playing a martial arts video game, "Street Fighter II," where she takes on the role of an empowered female character. She also blocks out the world thanks to her iPod and headphones. Cristina eventually slips into a casual conversation with a local parks worker, Manuel (Juan Pablo Quezada), who takes an interest in the eccentric Cristina. Manuel dreams of relocating to the South, an idea Cristina dismisses with weary cynicism. Cristina, however, becomes fascinated, if not obsessed, with Tristán (Andres Ulloa), an upper-middle class type suffering through a major depression. Tristán's wife, Irene (Aline Küppenheim), has left him, citing his negativity and lethargy as the main reasons for her decision. That doesn't stop Irene from sleeping with Tristán one last time, though. Tristán's attempt to get on with his life fail miserably. Dressed in suit and tie, he collapses on to his bed. Tristán's life goes from bad to worse when he discovers his contracting gig is on hold (construction workers have gone on strike). He flees to his wealthy mother, Laura (Coca Guazzini). Ricardo (Jorge Alis), Laura's youthful lover, takes an instant dislike to Tristán. Cristina and Tristán's lives intersect through chance meetings and random events. Tristán loses his briefcase. Cristina finds it, but rather than return it to Tristán, she treats the contents of the briefcase as a new puzzle, a new game to play. Cristina begins to follow the forlorn Tristán and, as she discovers more information about his present circumstances, Irene as well. [i]Play[/i] takes a different direction, though, keeping the audience guessing as to whether Cristina is a stalker, guardian angel, or even a potential love interest for Tristán. Scherson handles Cristina's shifts in behavior with a deftness remarkable for a first-time feature director (she has, however, directed numerous shorts and teaches film in Chile after receiving an MFA from the University of Illinois). In Scherson's hands, Cristina is isolated, alienated, and longing for human contact. It's one of [i]Play's[/i] ironies that Cristina contributes to her own isolation by using her iPod and headphones to keep the world at bay. Scherson's light touch is evident in how she manages to insert seemingly throwaway visual gags to keep us from seeing Cristina in a more negative light (e.g., in one scene, Cristina follows Tristán who, in turn, is following Irene, with no one the wiser). Where Cristina is active, Tristán is passive, making his cod-philosophical pronouncements about sadness difficult to take seriously. It also isn't difficult to understand why Irene has left him. But Tristán's failures rebound to the viewers' pleasure at his fumbling attempts to reconnect with his mother, his wife, even his mother's younger lover (there, the mutual hostility helps Tristán fight for something as superficial as his dignity). Interestingly, Scherson repeatedly strikes a chord by having Tristán questioned about the severity of a head wound, while everyone around him avoids discussing his obvious emotional pain. As a study of two characters from disparate social and ethnic backgrounds, [i]Play[/i] comes tantalizingly close to succeeding. Where it stumbles, almost irrevocably is in Scherson's resistance to delineating sharp, escalating conflicts for her characters and, as[i]Play's[/i] loose structure threatens to meander into ephemeral navel-gazing, in imposing an undermotivated act that's meant to bring Tristán and Cristina together. It does (bring them together, that is), but it leaves one character more passive than ever, and unlikely to maintain whatever sympathy his present condition brings out in the other characters. Ultimately, Scherson leaves Cristina at a crossroads, an unsatisfying denouement to an otherwise promising feature filmmaking debut.
Mel Valentin
Play Quotes
There are no approved quotes yet for this movie.