I For India
(2007)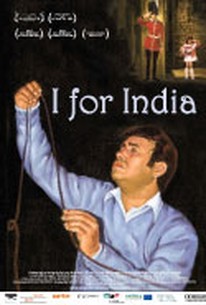 Movie Info
In 1965 Yash Pal Suri left India for the U.K. The first thing he does on his arrival in England is to buy 2 Super 8 cameras, 2 projectors and 2 reel to reel recorders. One set of equipment he sends to his family in India, the other he keeps for himself. For forty years he uses it to share his new life abroad with those back home - images of snow, miniskirted ladies dancing bare-legged, the first trip to an English supermarket - his taped thoughts and observations providing a unique chronicle of the eccentricities of his new English hosts. Back in India, his relatives in turn, respond with their own 'cine-letters' telling tales of weddings, festivals and village life. As time passes and the planned return to India becomes an increasingly remote possibility, the joy and curiosity of the early exchanges give way to the darker reality of alienation, racism and a family falling apart. A bitter-sweet time capsule of alienation, discovery, racism and belonging, "I for India" is a chronicle of immigration in sixties Britain and beyond, seen through the eyes of one Asian family and their movie camera
News & Interviews for I For India
Critic Reviews for I For India
Audience Reviews for I For India
½
[b]Super-8 is Great[/b] Being in Seattle for only three days of the world's largest film festival is incredibly frustrating. I knew I also had people to see and work to get done, so I had the chance to see only five films, one of them being the documentary [i]I for India[/i]. Out of the other ten documentaries playing in those few days, I chose to see this because it sounded thematically the closest to my own. [i]I for India[/i] is an incredibly personal film; I wanted to see how director Sandhya Suri turned the deluge of her family's home movies into a film for anyone. The festival's catalog also promised Super-8 footage, which I am a total sucker for, I absolutely adore its qualities. In 1965 during the great "Brain Drain" of India, Yash Suri moved his family to England to study medicine. (One of the thousands of men to do so at the time.) Not trusting the phone or letters to appropriately convey his thoughts and feelings back to the family he left in India; he purchased two Super-8 cameras, two projectors and two tape recorders for him and his family to chronicle their now separate lives. His oldest daughter Sandhya, has taken the 40 years of family messages and crafted them into a heartbreaking story of a family split in two. [center][size=1][b][img]http://hollywood-elsewhere.com/truth/images/i.jpg[/img][/b][/size][/center] [center][size=1][b]Yash looking at film.[/b][/size][/center] [center][b][size=1][/size][/b] [/center] At first the footage is fun and light, unpolished captures of the Suri family enjoying their new life in England. The messages they send are ones of hope and happiness. As the years creep by, and the breadth between the family spreads, the taped voices grow melancholy. In India, it is very common for families, from grandparents to grandchildren, to live together in one home. With the distance of a continent between them and their first child and grandchildren; Yash's parent's spirits are breaking down. Their pleas grow more desperate, as Yash continues to keep his family grounded in England. It is too tough for him to break away, his family has a very comfortable life; his three daughters have either never set foot on Indian soil, or barely remember it. England is home. In an eerily similar situation to what's currently happening in this country, the British government is resisting the large influx of Indian immigrants. The film effectively uses some 1970's BBC news coverage to demonstrate what is like for the Suri family to be foreigners in an unwelcoming land. After 18 long years in England, the country's unrest, along with a death in the family, urges the family to move back to India. They make a good try of it, moving into Yash's parent's house, while Yash sets up a new doctors office for himself. The girls are back in school among children they don't stand out from. But ultimately they are strangers, in a not so strange land, and it isn't working out the way they had hoped. This is where film is suddenly split in two, stylistically and story wise. Because the old recordings have been halted at this point in the Suri's adventure, Sandhya decides to bring in interviews with the family. It's an unfortunate problem for the film. It moves from a well told story about a split family, shown through old footage and voice recordings, to this modern tale of talking heads and slicker videotape. In an odd way, the film mirrors the family's division, with half the family left in the old-world and others moving on to a new way of life. [img]http://hollywood-elsewhere.com/truth/images/i2.jpg[/img] [center][b][size=1]Yash and a young Sandhya.[/size][/b][/center] [center][b][size=1][/size][/b] [/center] As we leave the old family behind, we begin to learn about the youngest daughter's plans to move to Australia. At first, it is a jarring breach in the narrative, but soon you begin to see the parallels, as now Yash and his wife Sheel must face their separation from a beloved child. Instead of grainy Super-8, they plan on communicating through the pixelization of their webcams, but the despair remains the same. [i]I for India[/i] is a personal tale of a family split, but it is something to which we can all relate; the strength of the bonds of family, no matter the distance. The first half of the film is a really well made historical documentary, unraveled through scratchy footage and voice recordings, like we're watching the memories play out in Yash's head. The second half is a decent film about a modern girl leaving the nest, for a faraway land; which isn't as intriguing or as esthetically pleasing. Despite the falloff in quality, the second half did manage blow some dust in this cynic's eyes during the family's tearful goodbye. All the video sections are well shot by Sandhya, a trait that she has inherited from her amateur filmmaker father. The first half features some nice close-ups of the projector running the film, and some dreamy shots of mom and dad. At the point where the film splits, there is some beautiful footage from India, put together in a nice montage with a traditional Indian song. The film is well edited, moving along at a good pace, without much fat; I was never bored by this film that I had no connections with going into. [i]I for India[/i] is a homespun documentary that is well worth seeing.
Ross Williams
I For India Quotes
There are no approved quotes yet for this movie.
Discussion Forum
Discuss I For India on our Movie forum!