Puzzlehead
(2006)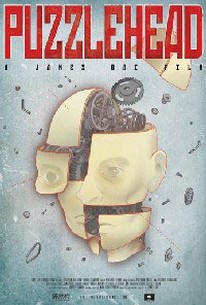 Critic Reviews for Puzzlehead
Audience Reviews for Puzzlehead
Not only does Puzzlehead appear to be set in a dystopia, it looks as if it were filmed in one. As an indie sci-fi movie it is excellent and the filmmakers do a great job of making virtues out of necessities (e.g. make the wooden acting and the low budget a part of the odd and dystopic vibe). While the scoring was surprisingly well-done, overall the sound is poor (as other reviewers have noted). Puzzlehead is not a great film but is great for what it is and I admire the spirit put into it.
Robert Brogan
Super Reviewer
½
There's really nothing about this that works, to put it bluntly. The characters are lifeless and unappealing. The visual aesthetic is commonplace. The scenario of machine self-awareness (creation vs creator) has already been extensively covered, and this film does nothing to put a fresh spin on any of that. It also floats on a much too level plane, never delving into the abstract or the psyche that makes the inherently bizarre story worth while.
Brett Warren
Super Reviewer
½
Great idea of a man, his machine and the love interest they both share but the acting is a bit rough and the dialogue is flat. Not bad for an independant production of what is basically a long Twilight Zone episode.
A.D. Villarreal
Super Reviewer
Puzzlehead Quotes
There are no approved quotes yet for this movie.