Feed
(2005)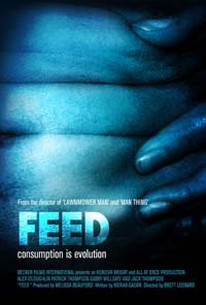 Movie Info
While policing the underbelly of the internet, Phillip - a hot shot cyber crime investigator, finds a suspicious website for FEEDERS & GAINERS - the weird world of fat erotica; a sexual subculture where fat-admiring men (Feeders) seek out obese women (Gainers). But one of these men may be going too far - feeding his charges to death and publishing details online. Phillip tracks him to Toledo, Ohio, and goes there determined to uncover the sinister underworld. What he discovers may cost him his life ... or his sanity.
Audience Reviews for Feed
"Feed" is bizarre, sick, disgusting with an interesting premise. I personally think it could be helpful for those who need motivation for losing weight or changing their food habits.
½
A top notch gory thriller. Could have done with a bit less flashbacks to childhood for both the cop and the killer. Alex O'Lachlan, doesn't do as well as I expect of him all the time, but he pulls it off sufficiently enough. Some may find the ending cheeky but I found it suitable for a film with a derailed protagonist and that characteristically quirky-absurd spin so many thrillers go for. Off the top of my head, this is the only horror or thriller that has done the "death/serial killing over the net" concept, hell just the "multimedia, digital killer" concept, well. The pacing is steady and the gore and makeup are incredible. Really liked and was moved by (as in I felt sympathy for them) the Meiwes/Brandes tribute characters in the opening sequence (also serves up a solid second-long shot of charred penis in a frying pan). And pan-seared dicklet segues perfectly into the final touch: the "Most Fucked Up" highlight: There are PLENTY to choose from, but for me, it's the emotional control that the killer is proudly displaying over his victim to the cop in the climax.
_kelly .King
Super Reviewer
Disgusting, and not in a good way.
Edward Boxler
Super Reviewer
Feed Quotes
There are no approved quotes yet for this movie.